I remember the first time at school I was asked to give a presentation in front of my Chemistry class about electrons. I was terrified. Thankfully for this one, I wasn't alone; I was with a friend, and we did it together. I remember mainly attempting to disappear into the background by hiding behind her.
The experience still haunts me today. And despite being a part of school plays and the theatre company, I always felt like I was about to collapse at any moment, I couldn't get the words out, my face was burning red, and I lost control of all the muscles in my body (including the ones that help me breathe, oops 😂)
So when I was invited to give a "last-minute" (as in not years in advanced) talk, my initial reaction was to turn it down, run far, far away from the opportunity and return to the safety of my comfort zone…
...But hey, that's no fun! 😉
I gave myself the challenge and accepted.
I spent the next few days obsessing over how my slides look, what I was going to say and talking to myself in the mirror (my sister walked past a few times, like "are you ok?" 😆) When I first started planning the talk, I was going to create cards with things I had to say. After watching a few talks on YouTube and thinking back to my favourite speakers from the conferences I went to in the last few months, I decided to discard the note cards.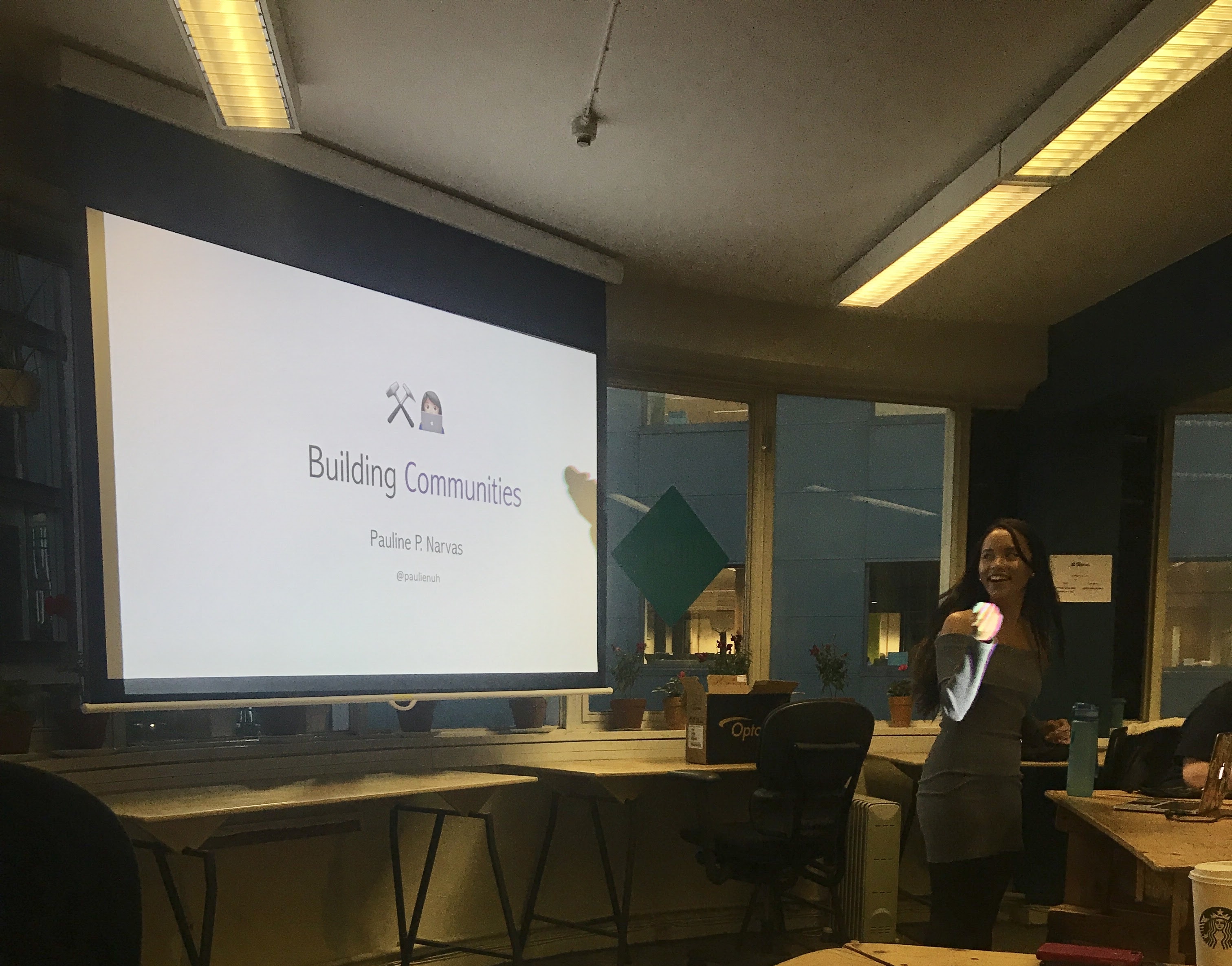 I talk about building communities in Sheffield with people I meet all the time. I love what I do with Code First: Girls and recently, hackathons that I can – after lots of positive self-talk – do it without the cards and just use my presentation as cues.
This is the first time I've ever done a solo talk and one without a script in front of me (for me to hide behind.) It was one of the scariest, most uncomfortable thing I've had to do in a long time but I did it. It took a lot of courage – a lot of which I thought I didn't have (especially after my downfall earlier in the week.)
But I did it. And yes, I am so proud of myself.
Although I have a lot of things I'd like to improve on, like how I want to speak slower and use hand gestures less, but I'm so glad I made that step up. I can't wait to speak at my next speaker opportunity at the ScHARR conference! I'll be talking about digital communications for maximum impact and engagement, specifically blogging and social media.
You can watch my full talk at ShRUG below:
Thanks again for the opportunity, Eve!
---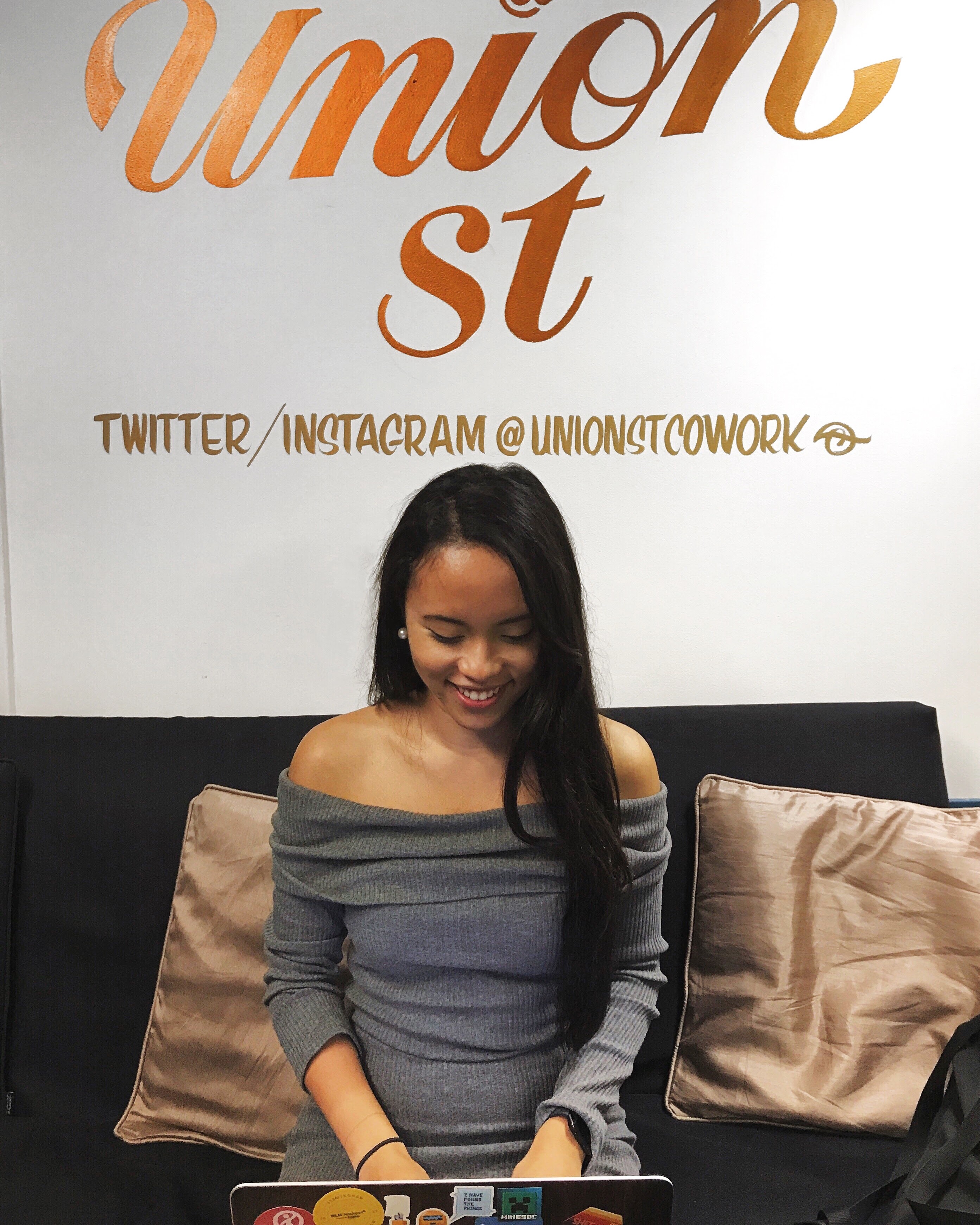 My tips (mostly reminders for my future self!)
💖 Know and love your topic. But it's OK if you're not an "expert" on it! Your experience matters, just like everyone else's, get your voice out there!
🚰 Drink lots of water – it helped me calm down and keep my brain hydrated and focused on what I was talking about!
👯 Invite a supportive friend to come along and just pretend you're talking to them. I invited Hamdah who supported me hours before and during. Whenever I felt nervous, I just looked at her and pretended we were just on one of our many coffee dates where I talk to her about CFG 😆
👀 Try and make eye contact with everyone. I was terrified of doing this initially – but it made me feel much more confident and much more in control when people looked back. It felt great knowing that I had their full attention.
☁ Don't forget to breathe 😆
🌟 Just get up and do it. It's super hard, I know. But once you're up there, the nerves fade away and the feeling that hits once you've done it is the best thing ever. I mean you just got over a fear and earned another achievement. Hell yeah.
One of the most reassuring advice I heard about public speaking has to be from Jess Rose who said, "it's okay because the audience will clap anyway because they sort of have to." 👏🏼 This was going through my mind during the talk and it helped boost my confidence massively! 🚀
I'd love to hear from you! As always comments and feedback are much appreciated. Thank you to those who watched, listened and tweeted! 🤗
supporting @paulienuh at the lightning talks for the Sheffield Ruby User Group 🙂

— Hamdah (@Hamdahsfeed) October 9, 2017
Congratulations @paulienuh! 🙌🏻

— Code First: Girls (@CodeFirstGirls) October 9, 2017
Congratulations Pauline! That's huge! x

— Sarah Ball (@_satelliteeyes) October 9, 2017
One of the most inspiring action takers to follow 👇🏼👇🏼 https://t.co/wTNiiW4z8m

— Cam Adair @ 🇨🇦 (@camerondare) October 9, 2017
Loved @paulienuh's interesting and enthusiastic @sheffieldruby lightning talk, many inspiring things going on in Sheffield tech communities!

— Chris Murray (@chrismurray0) October 9, 2017
Have you ever delivered a talk before? Have you got any tips for others on public speaking?