I can't believe that it's been 2 years since I first started my Digital Engineering graduate scheme. It feels like it was just a couple of months ago since I wrote my first post about my induction!
For today's post, I wanted to write a reflection of my 6 months rotation, finishing off my graduate scheme and what's next for me. I've shared bits and pieces on social media over the last couple of months, but I thought that it would be good to have it all in one place. Also – a bit of reflection is always nice, right? You can read my previous blog posts about my graduate scheme here.
In my previous rotation blog post, I wrote about how much I enjoyed working in the Platform Services team because of the amount I learned in just 6 months. I realised that I enjoyed working on AWS, improving my knowledge of cloud computing and slowly becoming a whizz at navigating Linux machines.
With this foundational knowledge, I was keen to continue this learning path. Around the same time when I was rotating, a new team, the Site Reliability Engineering (SRE) team was formed. It was perfect timing as it allowed me to spend the next 6 months continuing to build my knowledge in infrastructure/cloud and DevOps space for longer!
---
The Team
The Site Reliability Engineering squad was formed as an off-shoot to Platform Services, so there are many overlaps in the type of things that the team does. As I said, the knowledge that is foundational for the team includes cloud, infrastructure, DevOps and scripting.
In wider industry, SRE is a concept that was devised by Google which incorporates aspects of software engineering and applies them to infrastructure and operations problems. Obviously, not every organisation is Google so this SRE team's focus is a little different to Google.
The focus is on three key areas:
Ensuring that our cloud environments are secure, cost-efficient, reliable and performant
Bringing developer and ops together (e.g. improving observability)
Automating manual tasks to help dev teams focus on innovation
I love this talk by Tammy Butow (Principal Site Reliability Engineer at Gremlin) about what Site Reliability Engineering is in a nutshell.
---
Key learnings
Team Development
My rotation in SRE was definitely different from the rest of them. Because the team had just formed, it was a fantastic experience to be part of that early development stage. I had the opportunity to help develop a team from the ground-up, feeding into the team's operation and governance. So this included things like setting up team meetings (retro, planning, technical discussions), refining our goals and roadmap, prioritising work and communicating this all to senior management.
I also started my final rotation in the middle of a global pandemic! So trying to remotely get everything off the ground was quite a challenge – but one that I thoroughly enjoyed. ⭐️
It has pushed me out of my comfort zone and gave me a safe space to learn the process of organising a team, pushing towards a common goal and getting buy-in from fellow colleagues. Overall, having the opportunity to set the foundations of the team despite its challenges has had to be one of the most valuable things that I've done on the whole graduate scheme.
SRE Advocacy
Related to team development is what I like to call SRE advocacy. This has been one of my favourite parts of the rotation.
Communicating the value of the team to the wider engineering department was a key part of the team's success. SRE is around to help developers and operations folks alike so communication has been key. As a team, we got involved in a few advocacy pieces of work which generated interest in what we do not only within our own engineering teams but beyond!
This whole activity improved my confidence in giving presentations to a bigger audience, 'leading by example' skills and communicating with key folks that would benefit from what we're doing across the business.
It's so exciting to be leading on positive, transformational change ✨
Technical learnings
The SRE space is so exciting!
In terms of the technical aspects of the job, I've learned so much about a lot of different things. My learnings primarily focus on Amazon Web Services (AWS) products and services such as automation using Lambda functions and SNS. Other tools I've been learning quite a bit of include CloudHealth (VMWare), Jenkins, Dynatrace, Containerisation/Docker and slowly but surely, Kubernetes/OpenShift.
Another aspect of technical learnings has been around general awareness of security. I have to say, I appreciate the efforts of security-focused teams and now want to focus on making sure that security is at the forefront of everything that I think about.
An important part of SRE is monitoring. There is a lot of data to monitor – there have been countless dashboards I've been looking at and soaking in the information from them. They've been great indicators to understand what goes on in production and given the team insights on areas to improve on (e.g. to improve reliability or performance, or even finding security risks and cost-saving opportunities!)
I have been doing a lot of data analysis and making suggestions based on how I've interpreted that data. Most of the time, I don't fully understand the complexities of our systems but as common things keep cropping up, I'm starting to fully appreciate the importance of fixing root causes (rather than quick fixes!)
In addition to all these technical learnings, I've also had the opportunity to learn more about SRE as a discipline. I've been learning from the industry experts! Over the past few months, I've attended events such as SRE from Home, Blameless events and recently started a formal course on SRE, ran by Google. Like I said earlier, our team isn't here to copy exactly what Google does but finding the common practices have been fantastic to set the scene on what we can become!
It's safe to say that I still have loads to learn… Sometimes when I think of it all, I feel incredibly overwhelmed. At the same time, it's so exciting that I will be continuously challenged and learning new things every day!
Proudest achievements
At the start of my rotation, I took the AWS Solutions Architect Associate Exam and failed by 2% 😬 I put this as a personal achievement because it is considering as I didn't know what AWS was 6 months ago. Even though I technically failed, I'm proud of trying! And yes, you bet I'm excited to give it another go 💪🏼
With support from my manager and wider team, I've been able to improve my leadership skills! I've had the chance to step up in this rotation and I believe that I took hold of every opportunity that I could to lead by example. This has been a great practice, as I hope to become a technical leader in the future! The feedback I've gotten from my team has given me that confidence boost.
Creating visible impact and positive behavioural change. Contributing to reducing security defects, cost and shifting mindsets across engineering. Win! I'm excited to see how far we can go. 🚀
As part of the advocacy piece and my general curiosity of SRE, I've gone out of my way to learn from others. I'm proud that in the short time of being in the rotation, I've picked up some knowledge from industry experts and made a real impact on how we operate in the team!
Working well remotely and establishing the squad remotely.
Wider graduate achievements
I was part of the International Women's Day 2020 panel back in March before lockdown. It was an honour!
I gave a very successful talk for the ELEVATE programme to share my story of getting into tech as well as waving the flag high for the BT graduate scheme.
Shortlisted for Rising Star Award – Large Organisation 2020
Finishing off the graduate scheme and securing a role after several interviews! I did it 🥳
---
What comes next?
A great question, as well as a great song from Hamilton.
As I came to the end of my graduate scheme, I rolled off onto a permanent role at BT as an official Site Reliability Engineer. 🎉 I recently did a self-development course that helped me identify what motivates me and what does not. The things that do fit in with the work I'm doing at SRE which further solidified my final choice.
If you hadn't picked up from the blog post, I'm excited about what is coming up in SRE. For my first 'non-graduate' role, I believe this is the best place to be in! There is still a lot to learn, but I'm pumped and ready for this next chapter.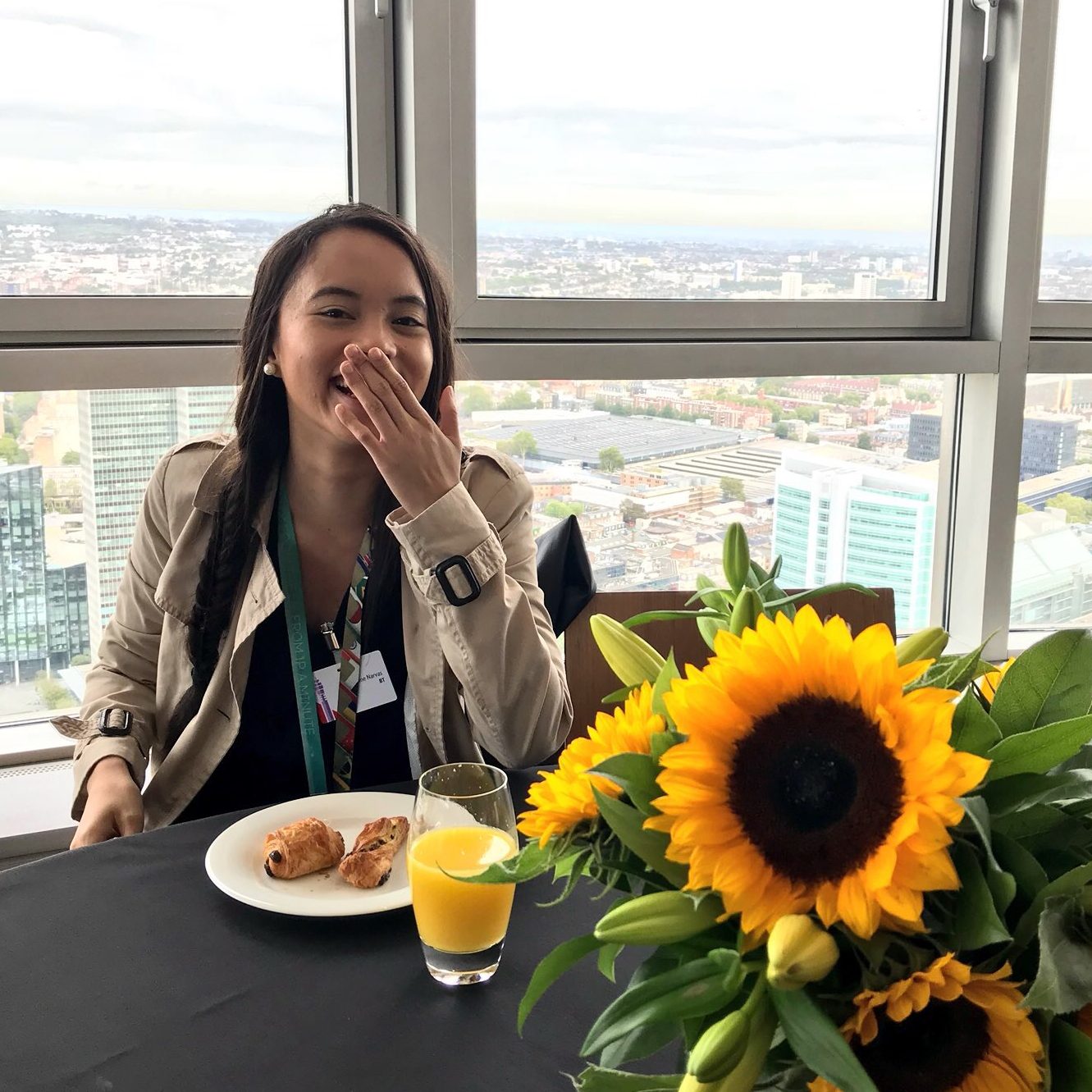 Thank you to the BT graduate scheme for the fantastic past 24 months of personal and professional growth! A massive thank you as well to all my previous rotation managers and teams for all the support to get me to this point. Here's to more learnings, failures and continuously becoming a better engineer 🥳