…I see you facepalming through the screen.
Today I'll be talking about part 2 of my Euro trip to Southern France with my best friend, Hamdah. Just in case you missed it which you probably didn't we extensively documented the whole thing on social media, receiving very positive comments. 😆 Have a look at our adventure and future adventures on #pawdahtravelz.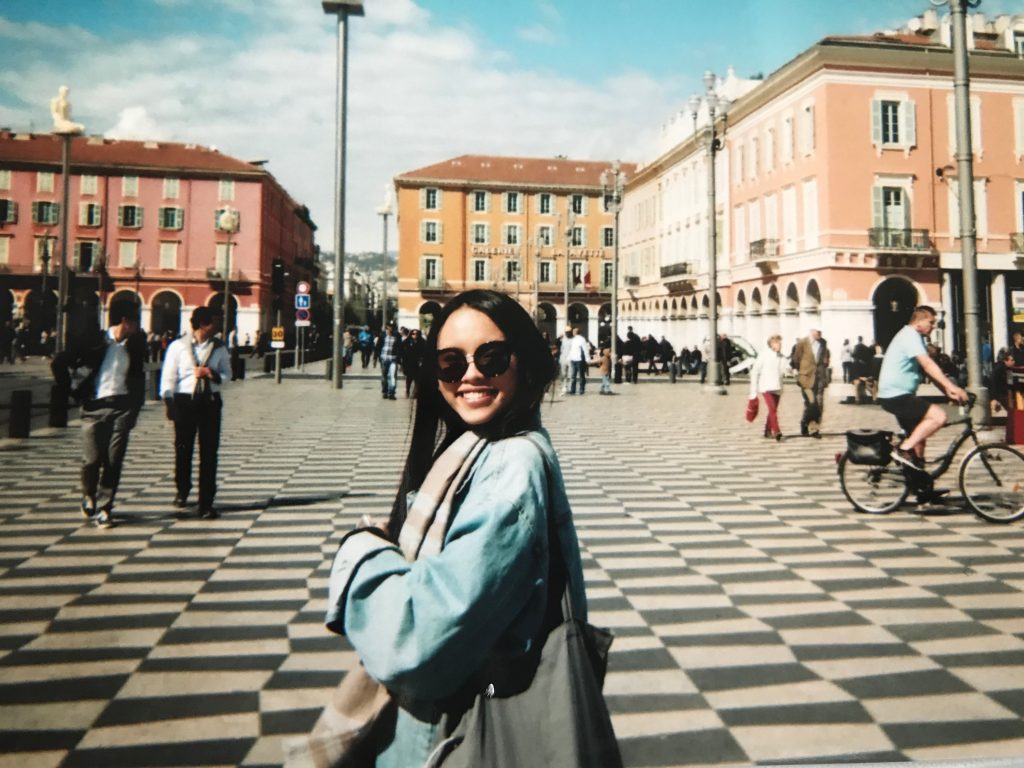 Quickly navigate through the days here:
---
Day One – "Yellow"
We arrived at Nice at around 4 pm. Portugal to France was only an hour and a half but we got there 5 minutes early because of our efficient pilot – who we couldn't stop talking about because he had a very British accent and we are easily amused. We took a taxi straight to our hotel, Mercure Nice Promenade des Anglais Hotel. Hamdah and I were really excited about this hotel in particular because we paid a little extra for a great location – we were a minute away from the La Plage Publique de Beau Rivage.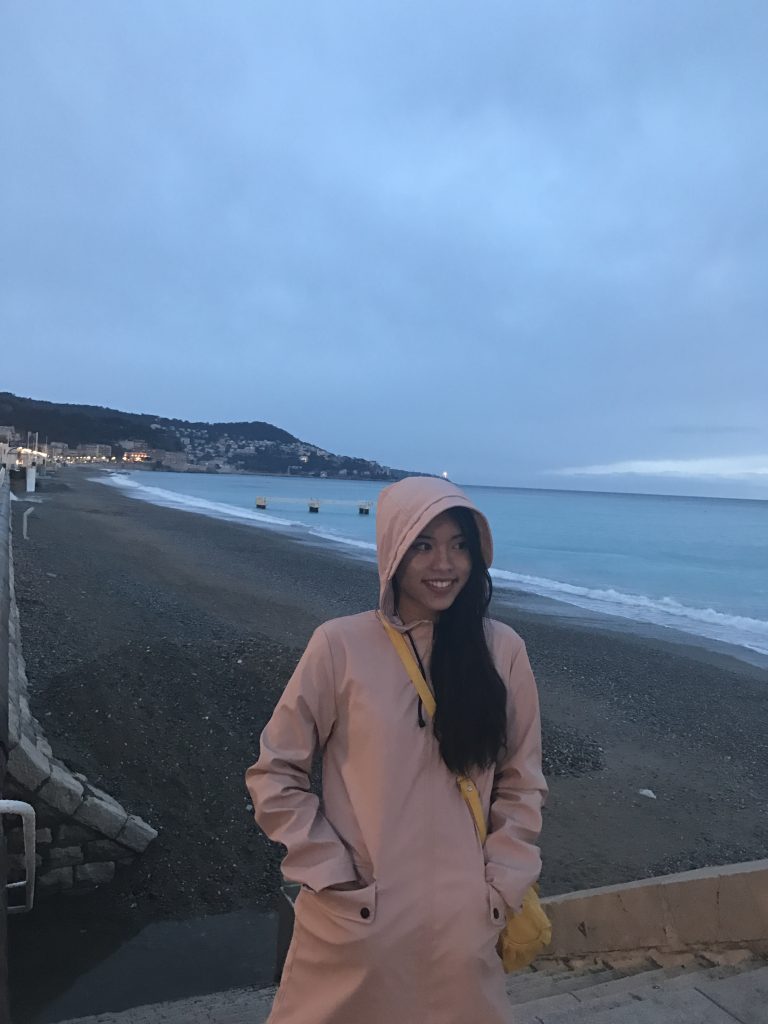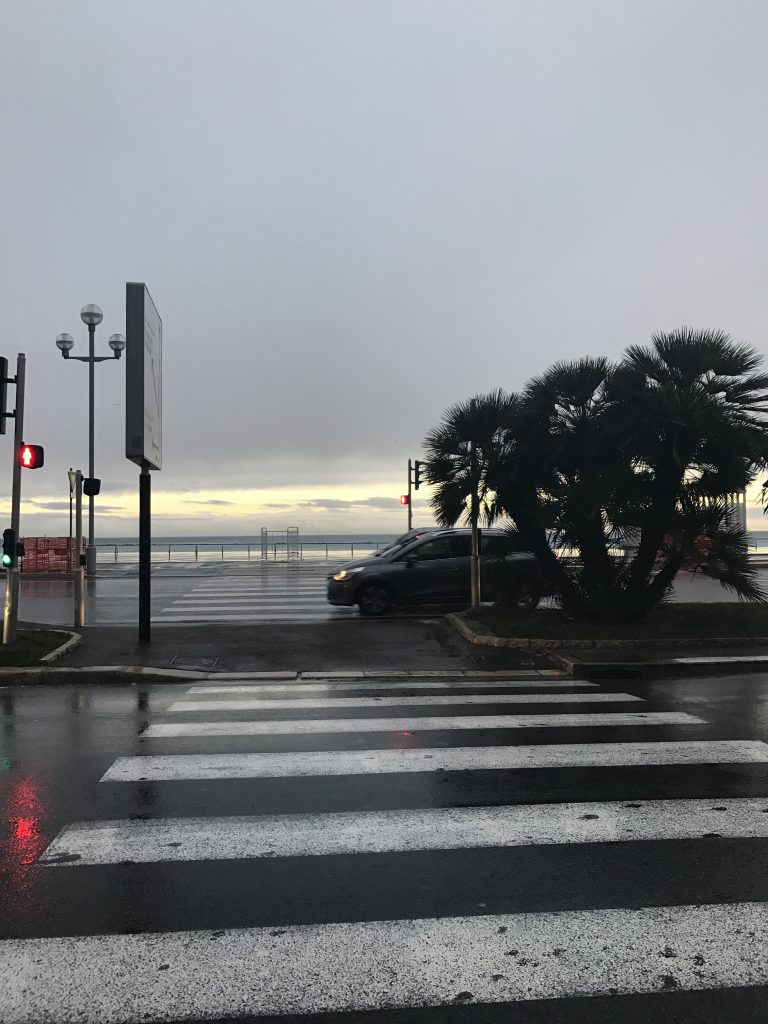 The room we booked was supposed to have an amazing sea view (I still wasn't over my Barcelona experience of waking up to the sunshine and sea view) but ended up having a "city view" which were literally just the building next to us. Although I was a little disappointed, we adjusted to our room quickly but it was nothing of the standard in Lisbon. (Lol, we are such princesses!)
Compared to arriving early morning in Lisbon, we arrived quite late to Nice so we didn't do much apart from walking down the beach. Although it was raining heavily and not to mention absolutely freezing, we continued to walk along the beach waiting for the sun to set. Hamdah reenacted the Coldplay's "Yellow" music video, with her McDonalds drink. It was pretty funny. 😂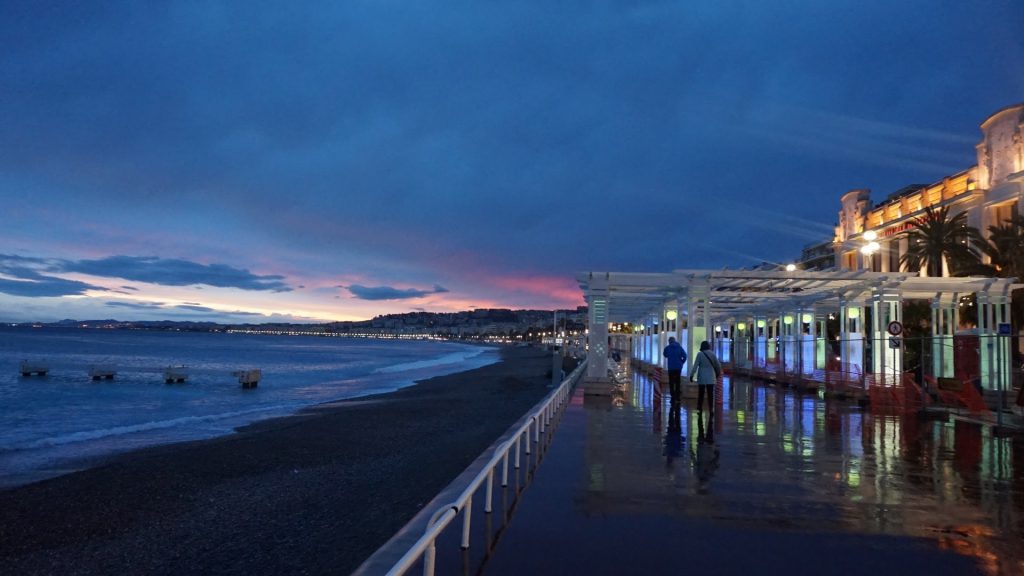 Day Two – *aggressively screams* "I am a blogger"
Thankfully the whole of France woke up to better weather. We, however, also woke up to a bland breakfast at the hotel which we increasingly hated. At least the tea was nice!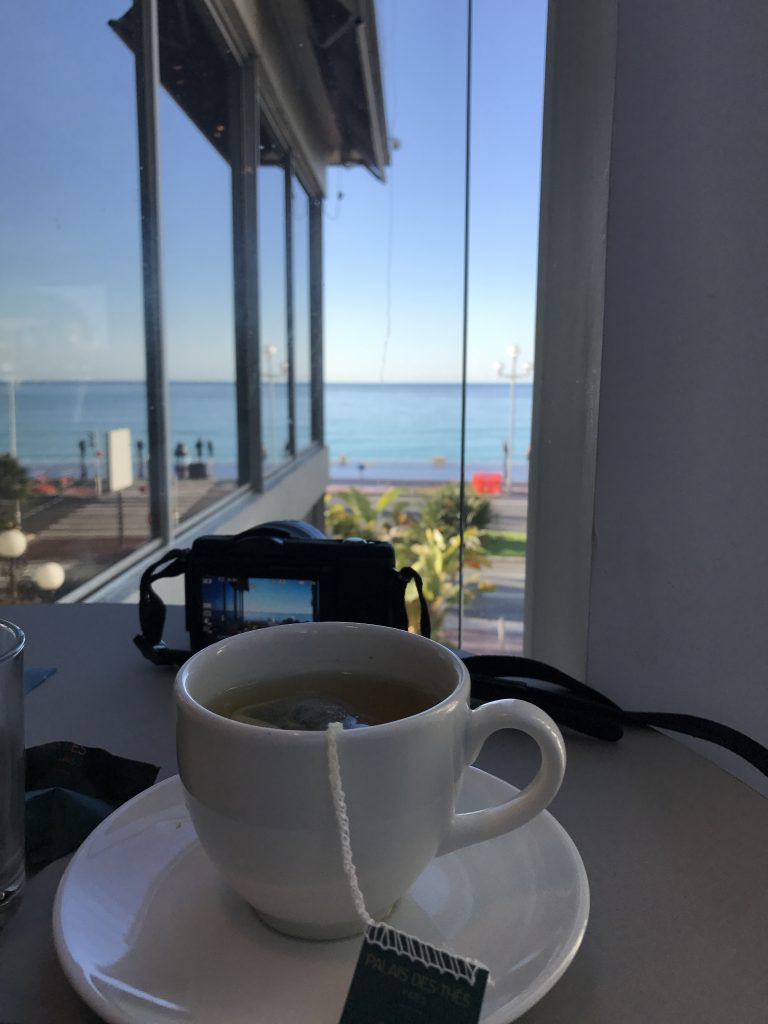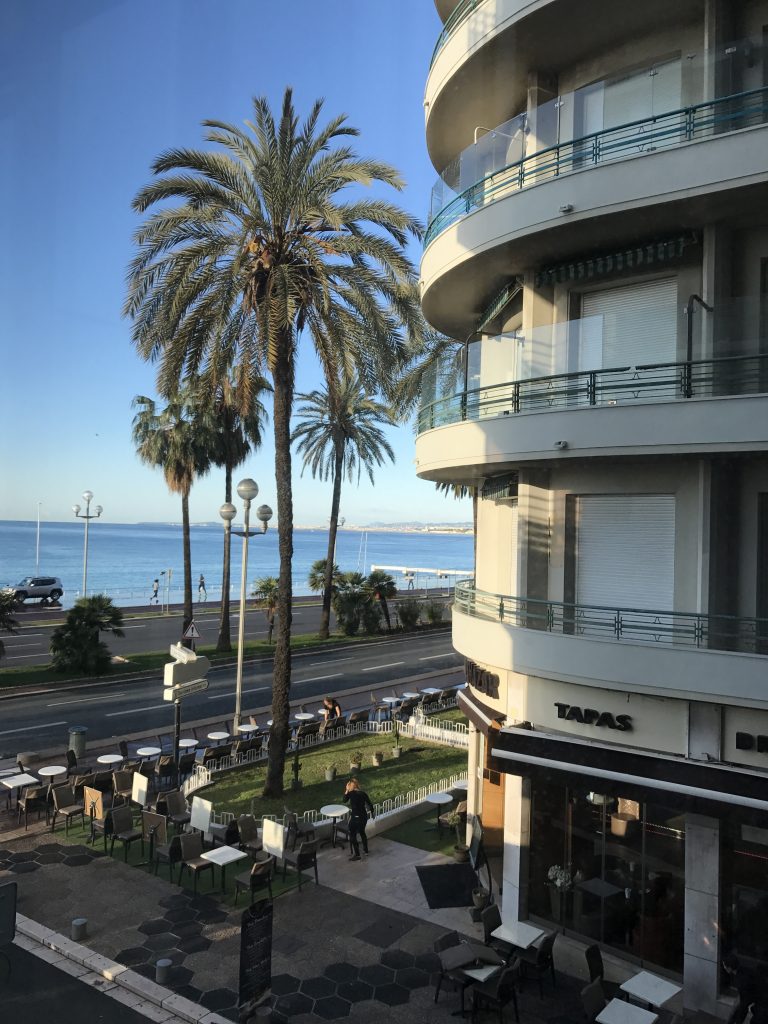 Beach
Being excited by the blue skies, the sunshine, and higher temperatures (because we don't have that back in England), we rushed to the beach before it started getting busier and spent the morning watching the waves, eating strawberries, and napping under the sun.
It started getting a little busier closer to lunch time but it a wasn't as packed as the beach in Spain in the summer time! The beach was all rocky so it wasn't that comfortable – I was determined to find a sandy beach somewhere along the coast. 🤔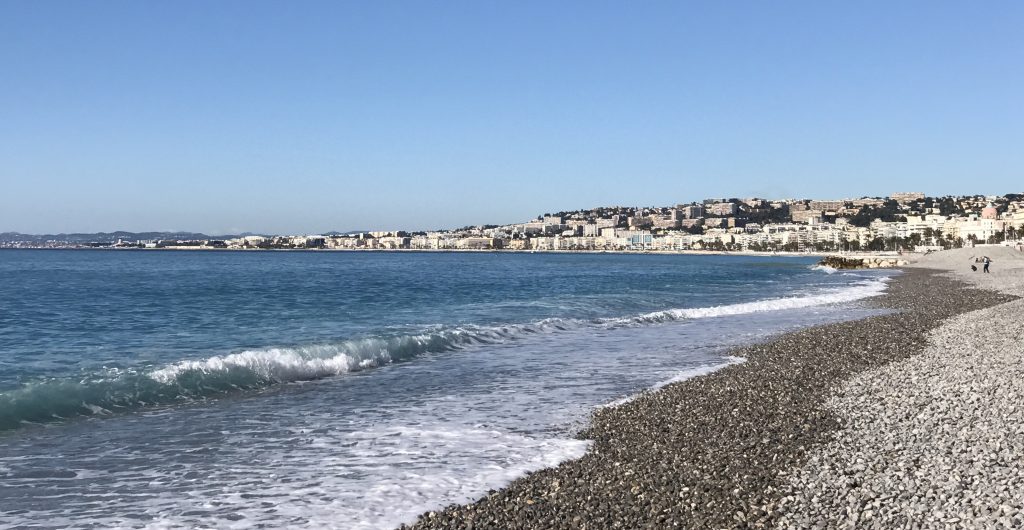 Castle Hill
If you type into Google Nice, France or have ever seen photos of Nice, you may have seen this view. I know that this image is what had always come to mind before my trip (now it's a mixture of beautiful sights.) So I was determined to see it in real life myself! When I was planning the trip, it seemed like a long and complicated walk up to the top but it ended up being a few minutes walk from our hotel.
The view was outstanding. I think I may have cried way too much during my time away but beautiful views never fail to make me speechless. I think this view, in particular, made me feel a little overwhelmed because after seeing it online so many times, I finally saw it in real life and it definitely didn't disappoint.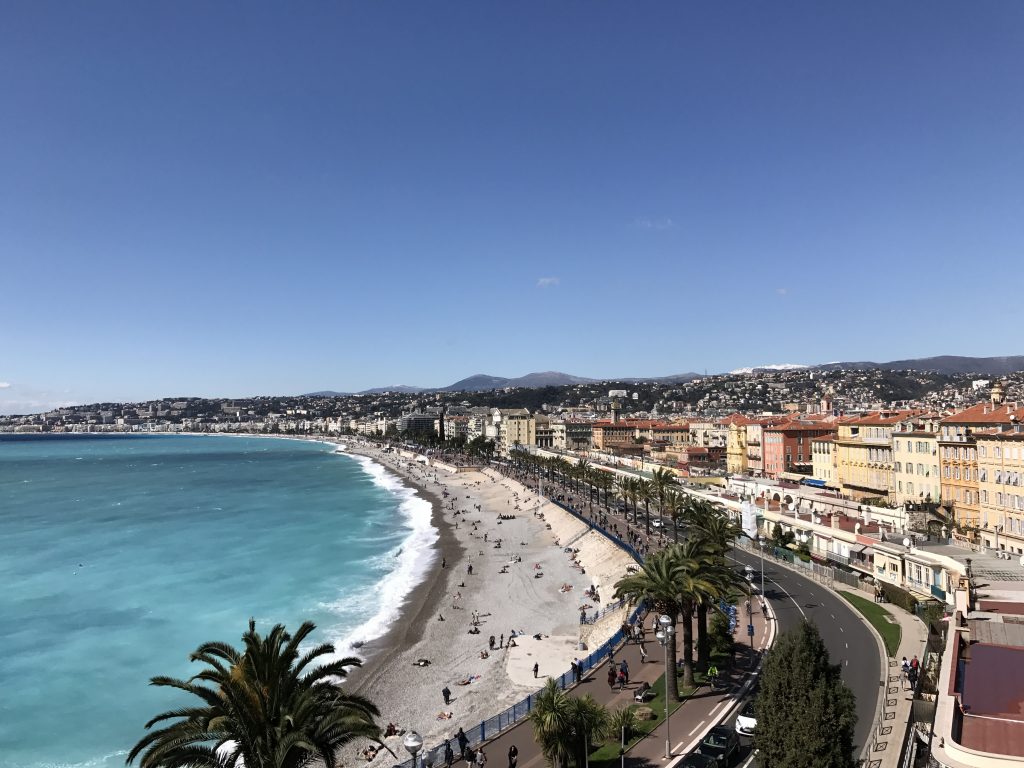 Old Town – Vieux Nice
As castle hill wasn't as far away as I thought it had been, we decided to tick off another place on our list – the old town of Nice. Filled with shops, restaurants and historical sights, we spent a good amount of time looking around, mostly being shocked by prices of some of the restaurants.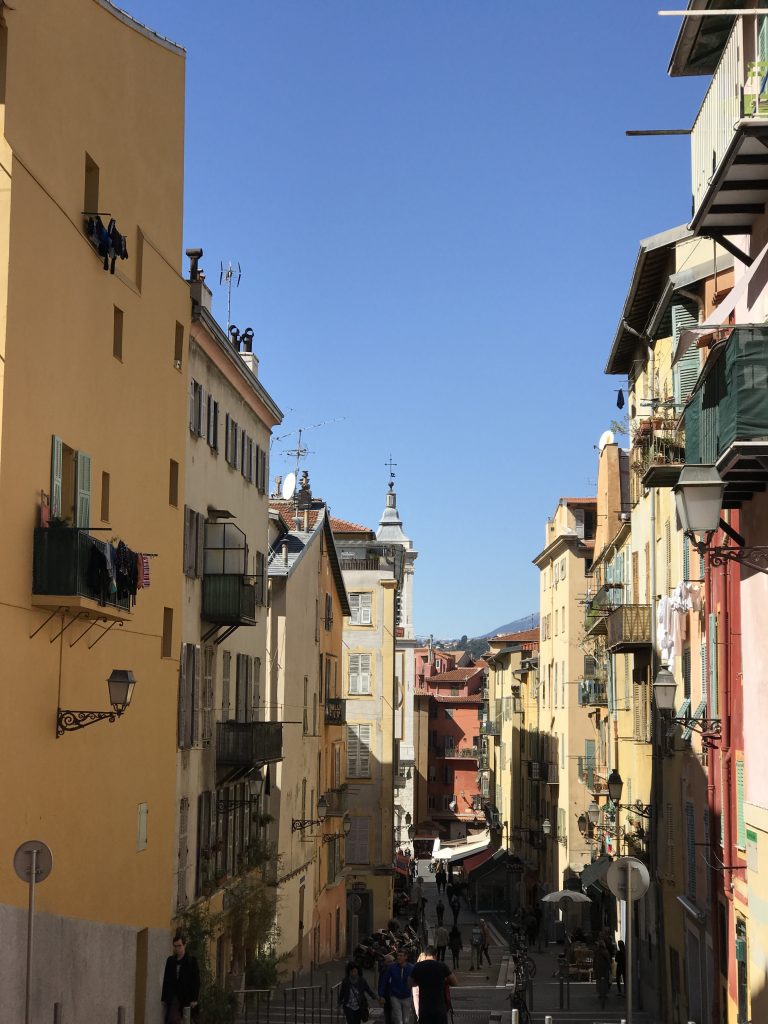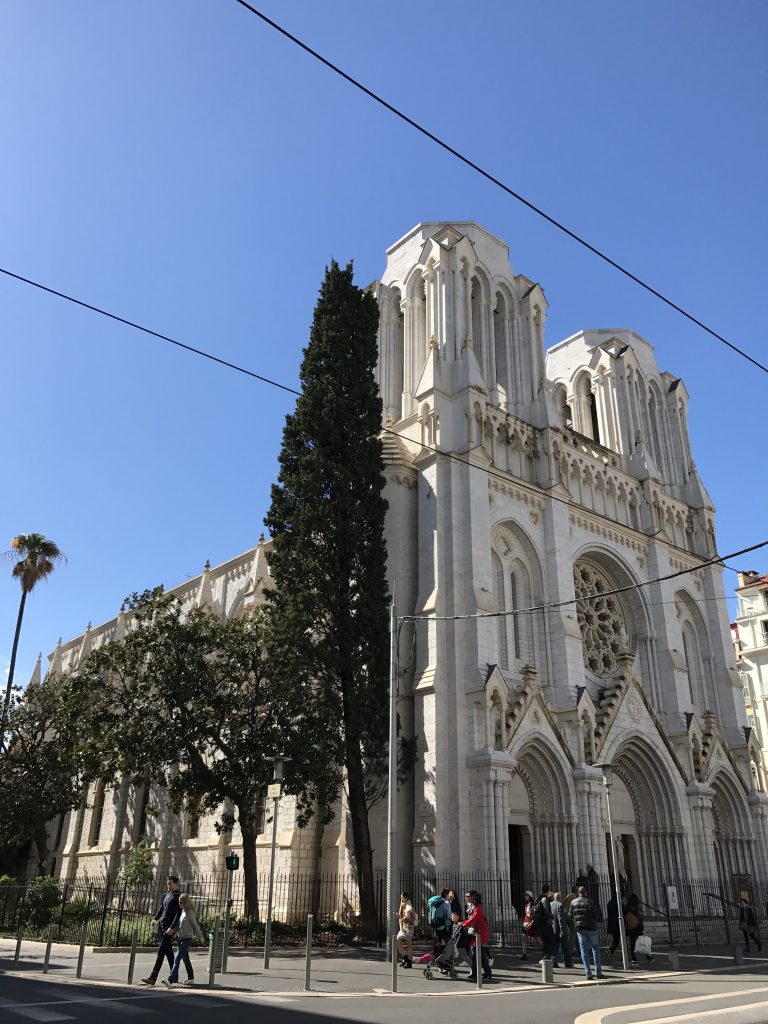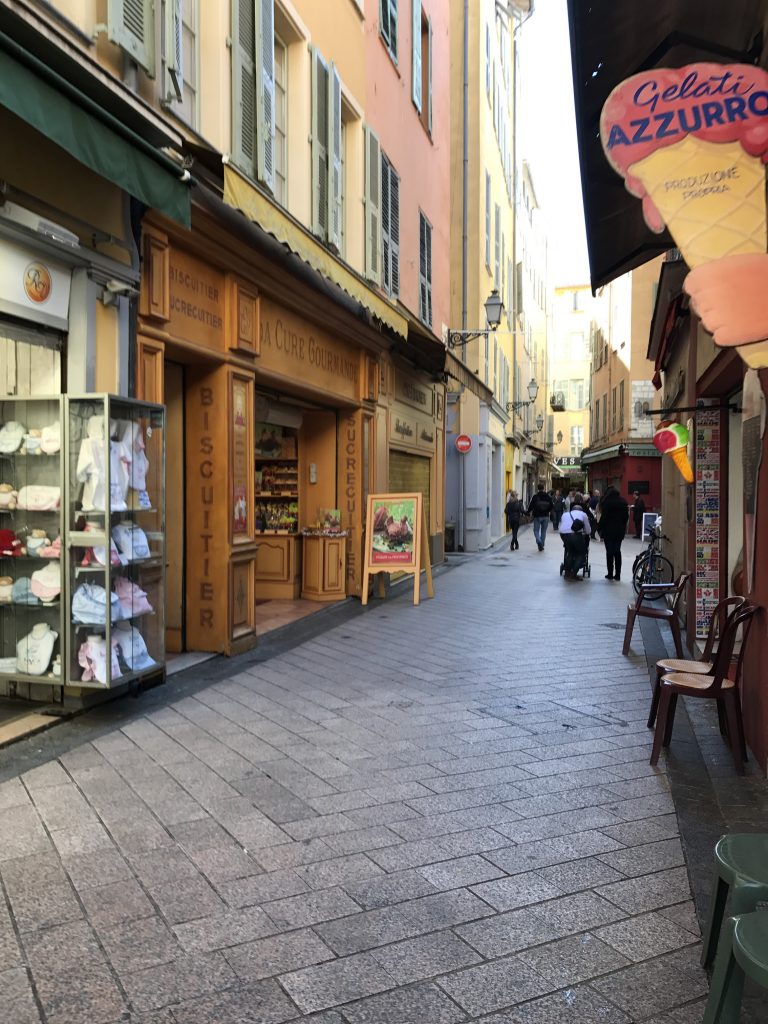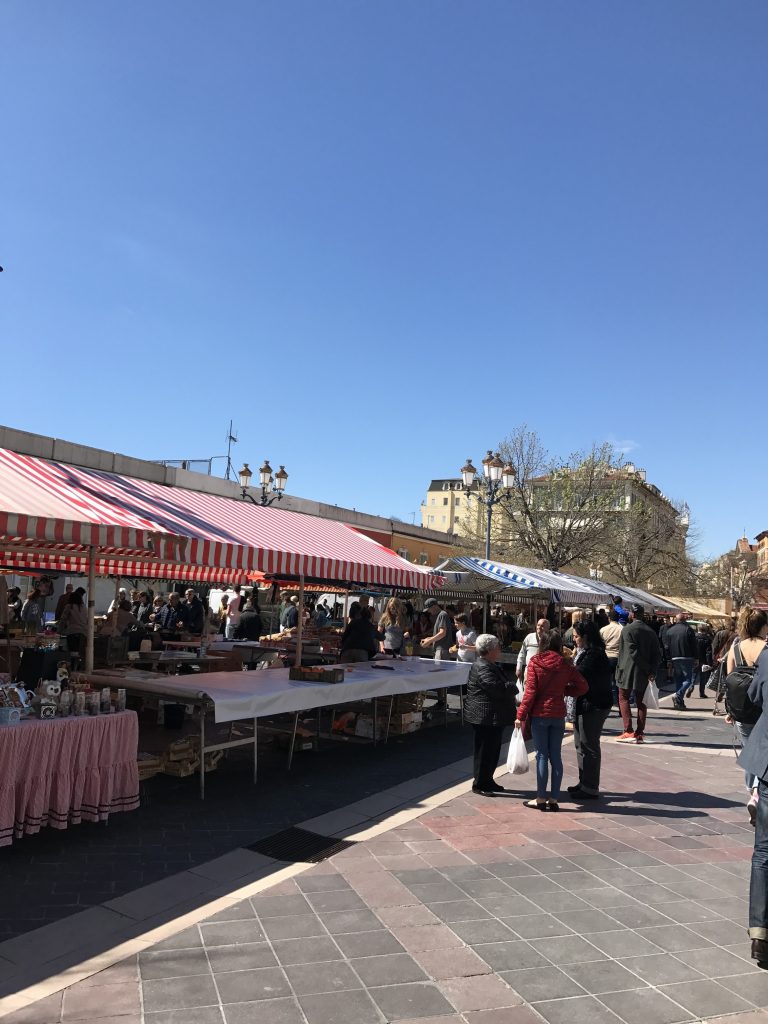 Oh, and of course, being complete touristic bloggers.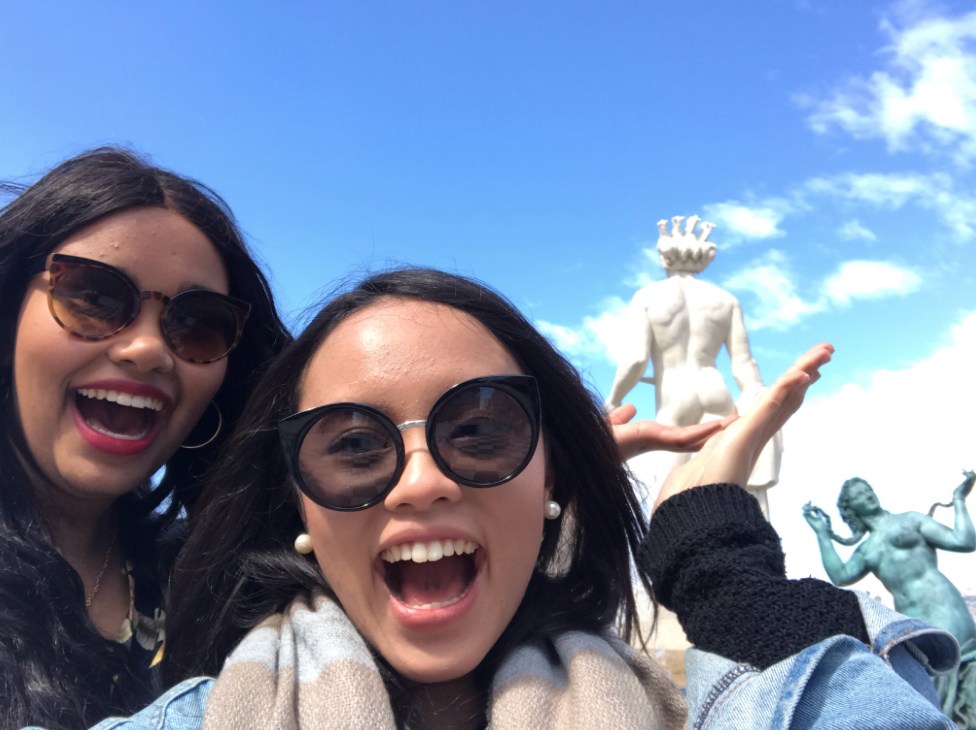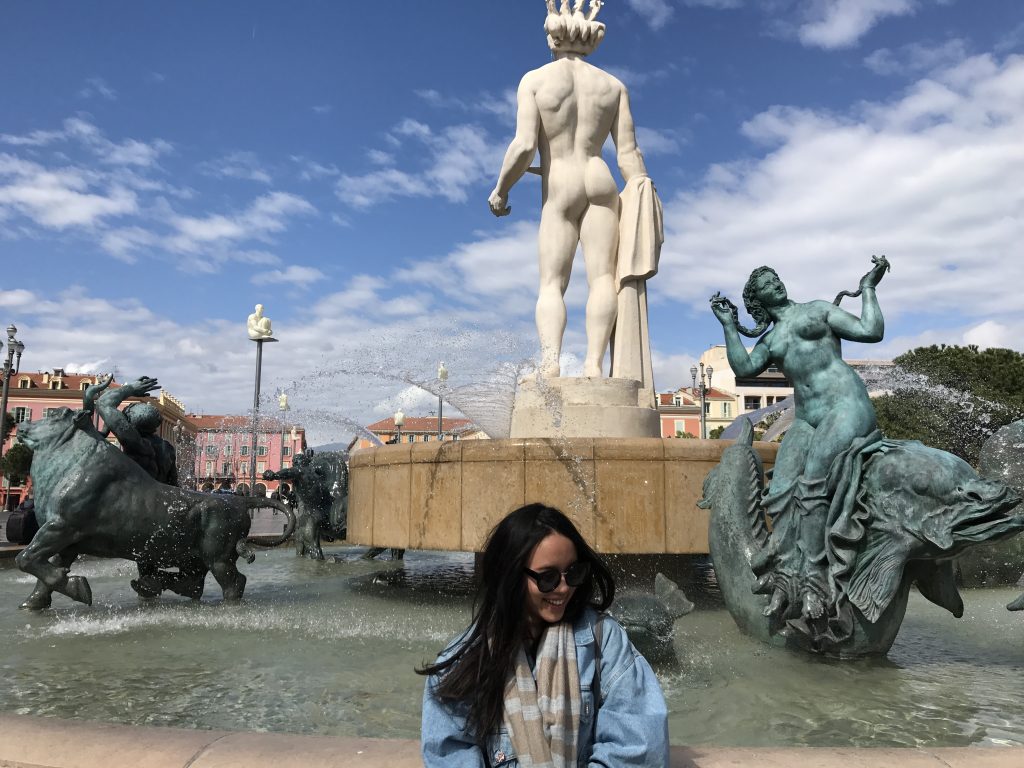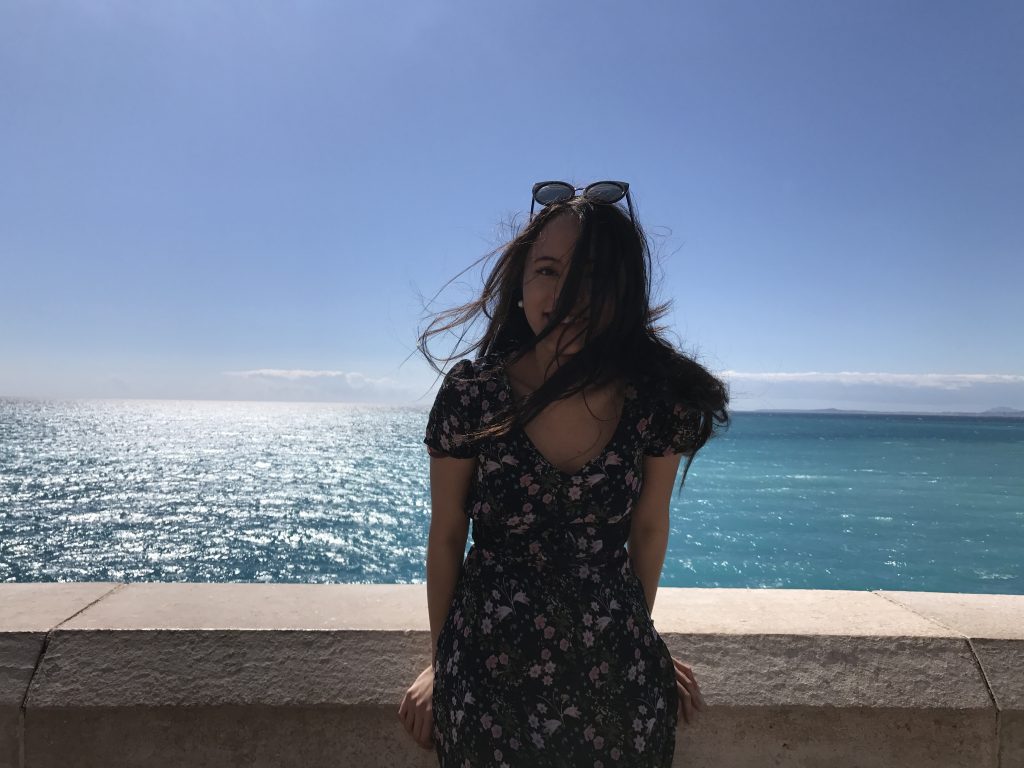 On our way to Vieux Nice, we passed an amazing jazz player by the beach. It really added to that positive vibe – you all know how much I love jazz, right?
Making friends
Day two was spent exploring places around the old town and further into Nice, we visited a few shopping centres and discovered lots of cute places to eat, drink and where locals hung out. By sunset, we were confident that central Nice was covered! It was a lot of walking but it was nice (last one I swear) to become more familiar with our surroundings.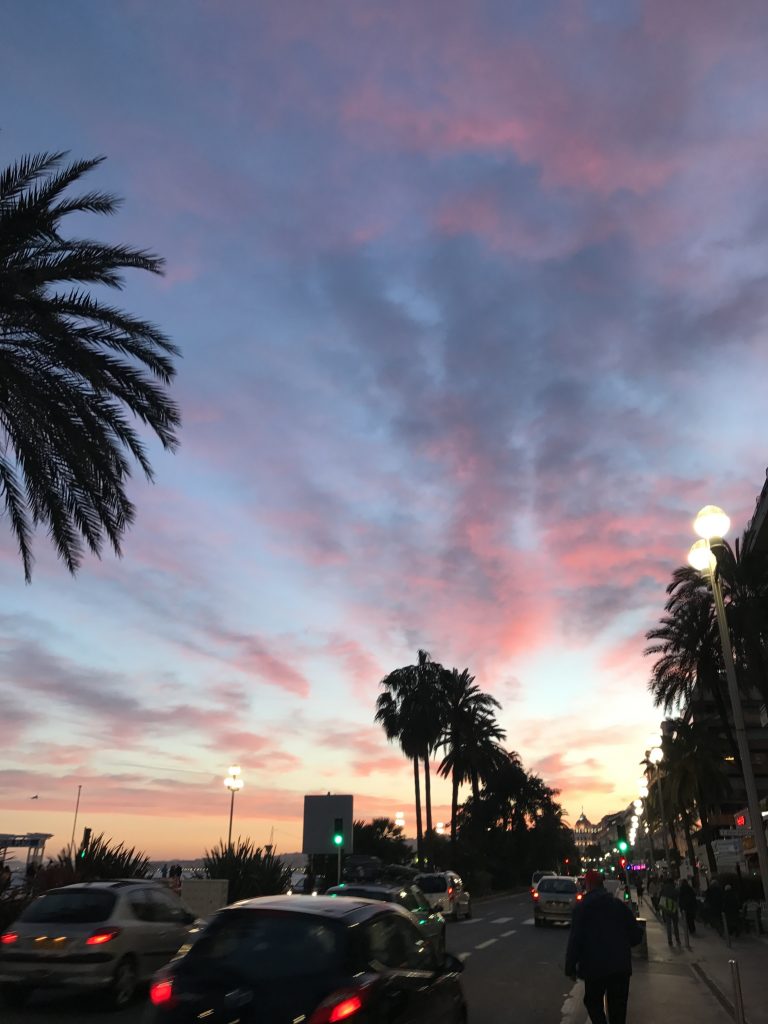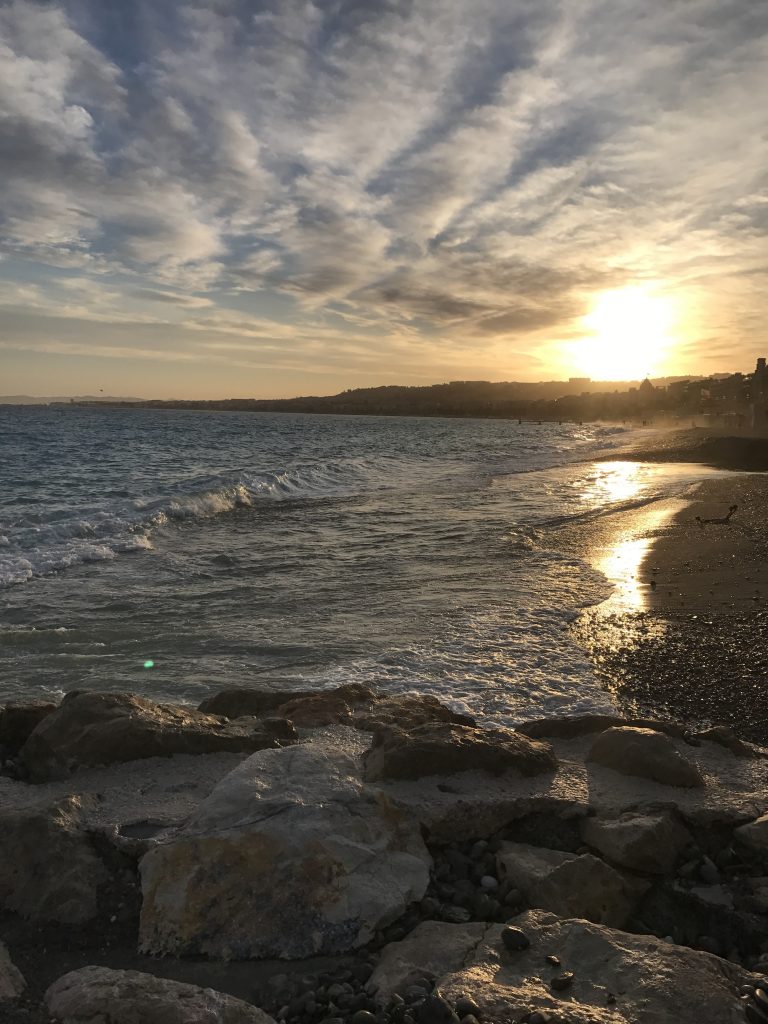 We wanted to watch the sunset again and as it was much warmer and wasn't raining, we could chill by the beach longer.
Storytime: Just being my blogger self, Hamdah was taking photos of me by this rock that I was comparing to the one from the Lion King when a girl, Ekay, who was watching us be complete tourists the whole time kindly offered to take a photo of both of us. Most of mine and Hamdah's photos together are embarrassing selfies (as above) so it was great to get a photo of us together (highlighting our height difference but we can get onto that on Day three)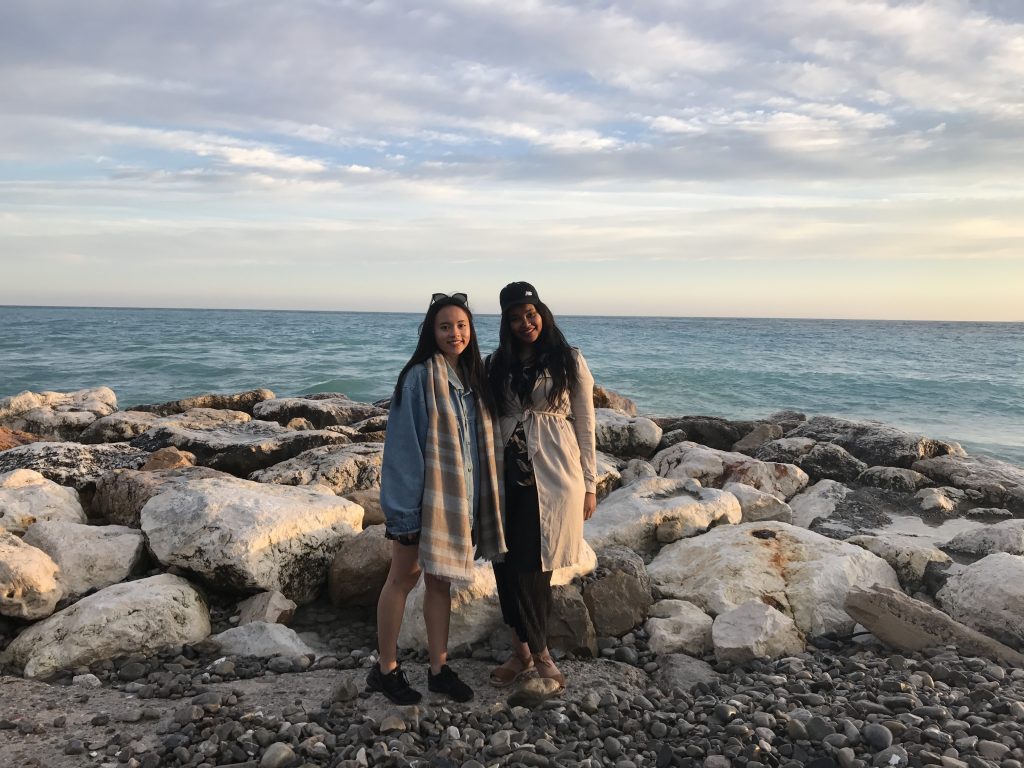 After talking and getting to know Ekay a bit more, originally from the US, we discovered that she was planning to do a year abroad in the UK to study.
As I said in my previous post, travelling has caused me to run into truly interesting people. I enjoyed learning about Ekay and her future plans. It really inspired me to go ahead with my thoughts on studying or even working abroad in the future, something that hadn't crossed my mind until recently. The world is filled with exciting opportunities! The experience of this independent trip with Hamdah and all the added value of meeting super cool people has really put things into perspective. Thanks, Ekay!

Day Three – "If you look to your left, you can see more wealthy people doing wealthy things!"
Our third day was the most structured compared to the other days. When I was planning the trip, I came across this very tailored day trip to Eze and Monaco.
Whilst we were in Lisbon, we met a couple who had just been to Nice and they recommended going to Eze and Monaco. And although our day trip was quite expensive (compared to just taking a train) I don't regret the very informative trip with our tour guide Matilda.
A different view of Nice
The nice thing (Ok, ok I'll stop) about having a tour guide is all the hidden gems that may not be easily accessible by public transport compared to directly driving there. For example, I was heart-face-emoji all over this: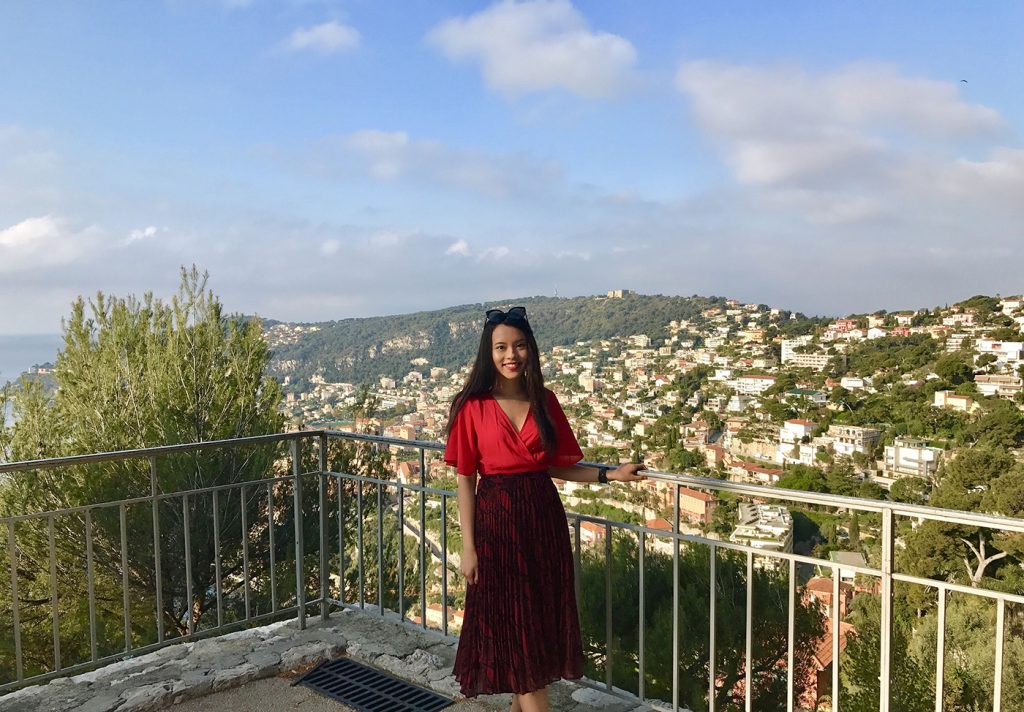 Perfume factory
Our first stop was the perfume factory close by Eze, we got to see the creation process of a variety of famous French perfume. You left that place smelling amazing. 😆
Éze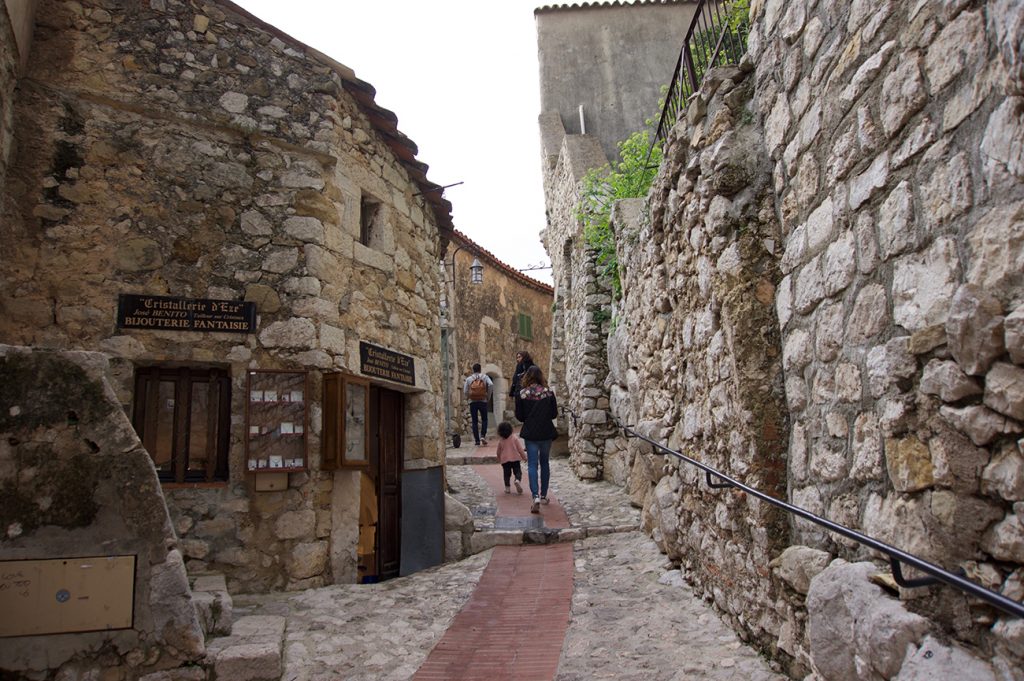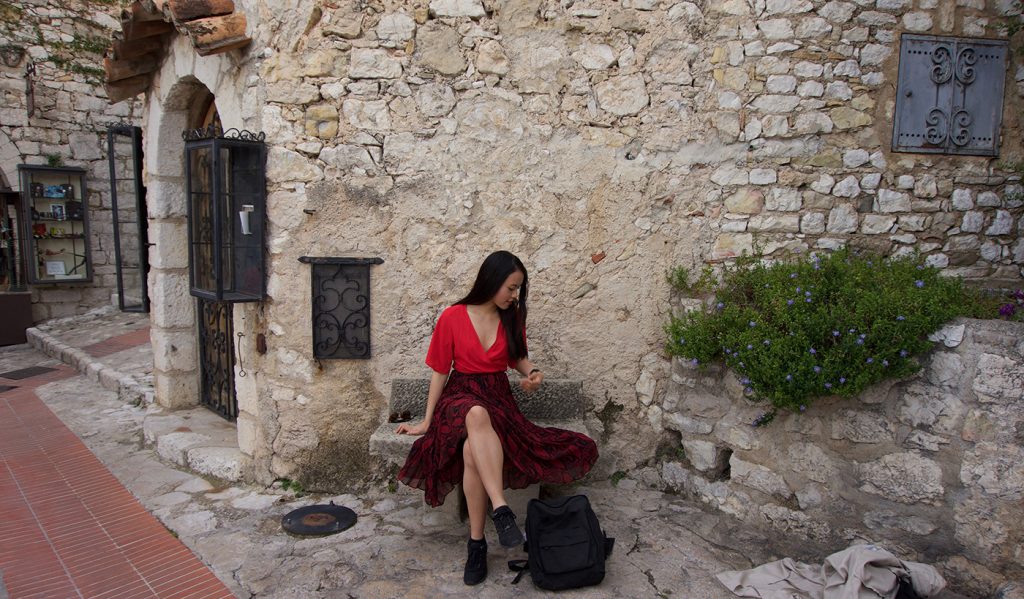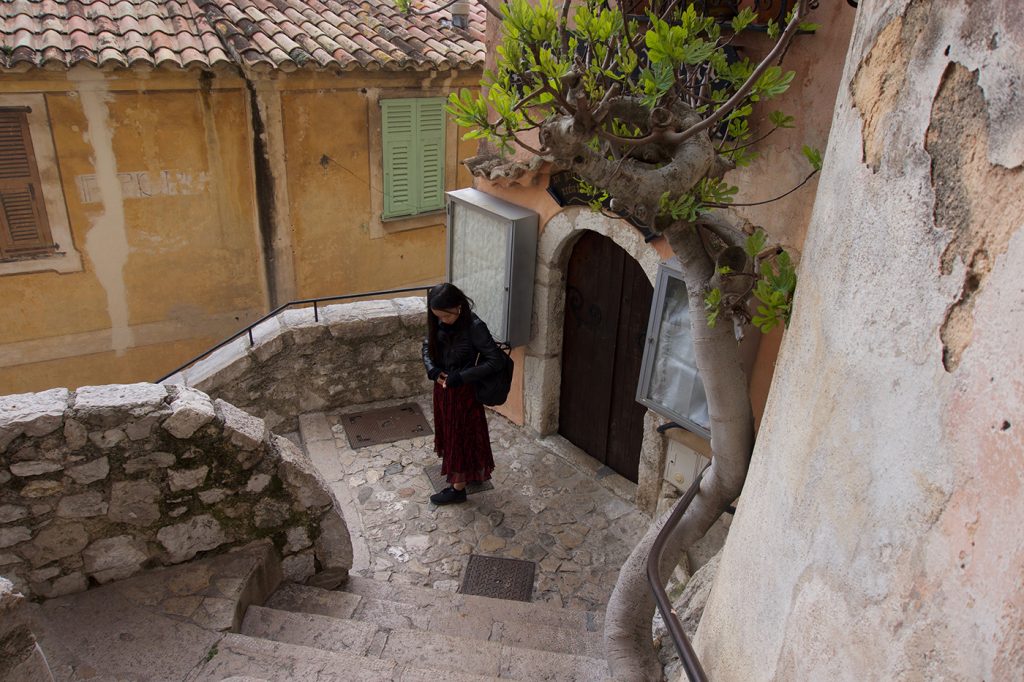 Éze is a small medieval village located right on top a hill. It reminded me of games I used to play when I was younger – Skyrim, Runescape, Fable to name a few! I was surprised by how many different things was up there – cafes, restaurants, shops, house and a huge garden? It didn't look like it could fit everything in one place, but it did!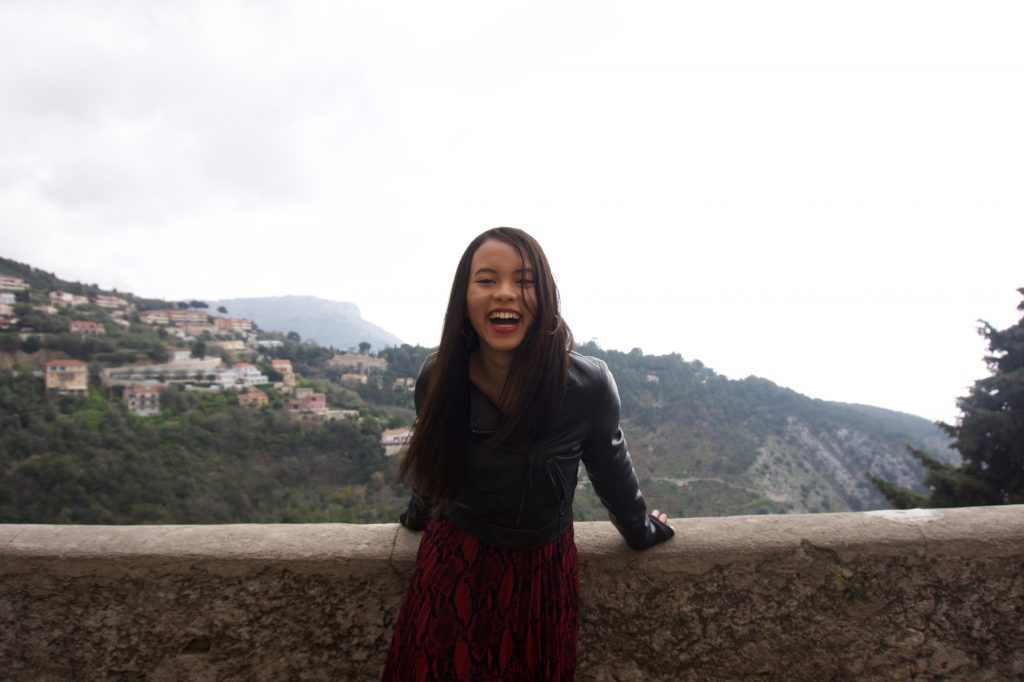 The view from the very top was outstanding – hi, hello beautiful Mediterranean sea. 😻
Monaco-Ville
The second half of our trip was all in Monaco. Prior to this trip, I didn't know Monaco is a different country and that Italy was only 20 minutes away from Monaco (bare in mind, my geography is terrible) – you really do learn new things every day! Our first stop was Monaco-Ville which is one of the four quarters of Monaco, it has been named as "the Rock" in the past because it is located high up on the hill. We had to get on two lifts and an escalator to get up to the top.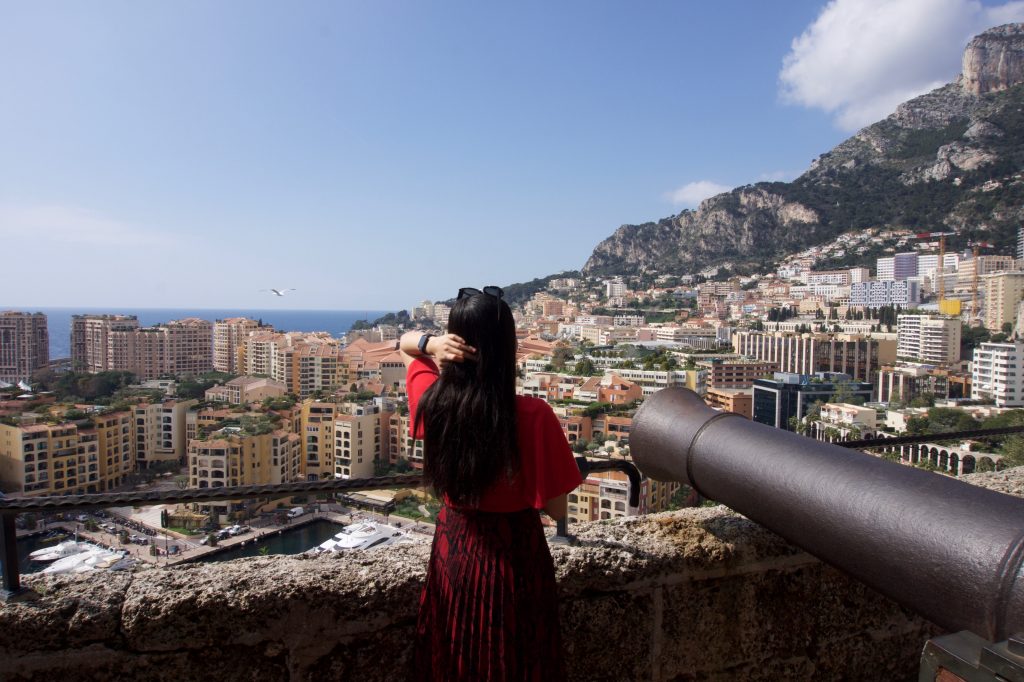 After admiring some amazing views of the main Monaco city from up above, visiting castles, museums, parks and shopping around for gifts, we had lunch at an Italian restaurant (what else, right?) Unsurprisingly, it was quite expensive but worth it 👌🏻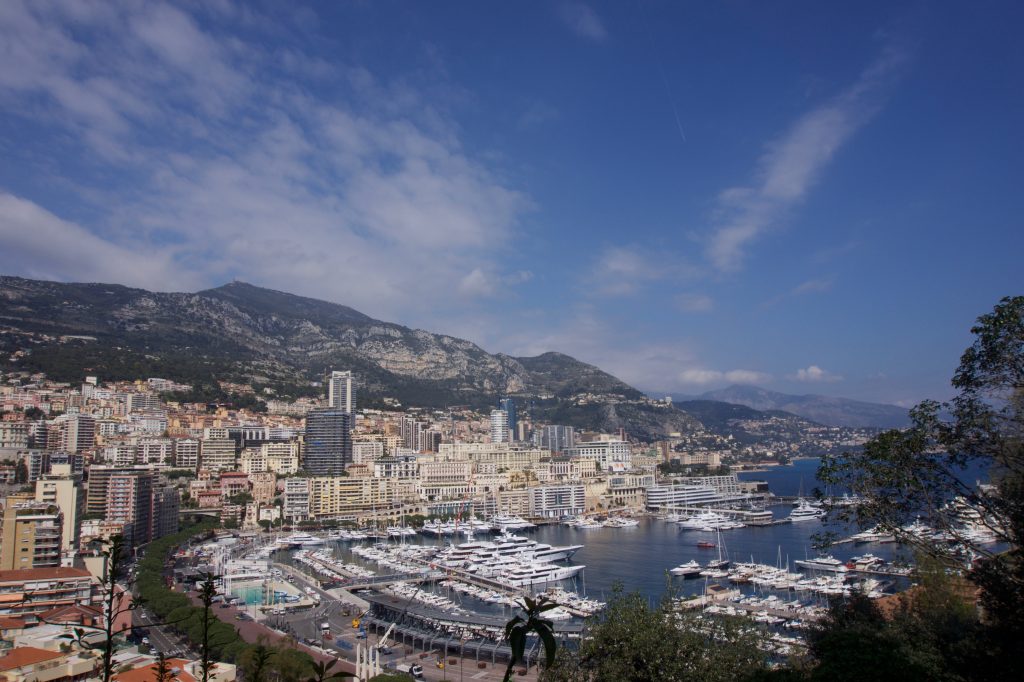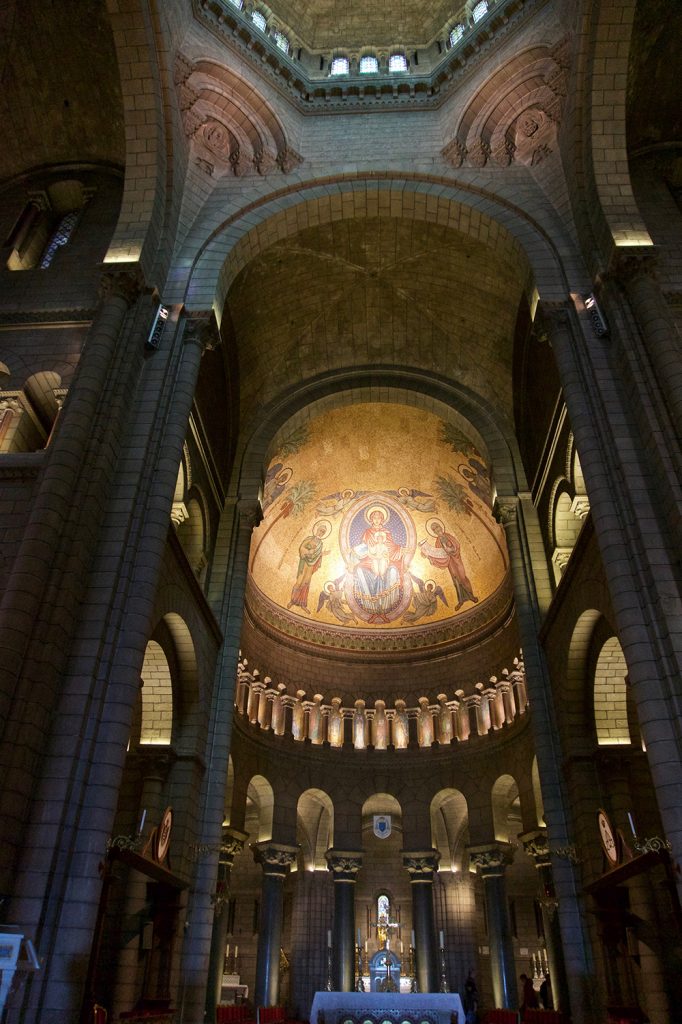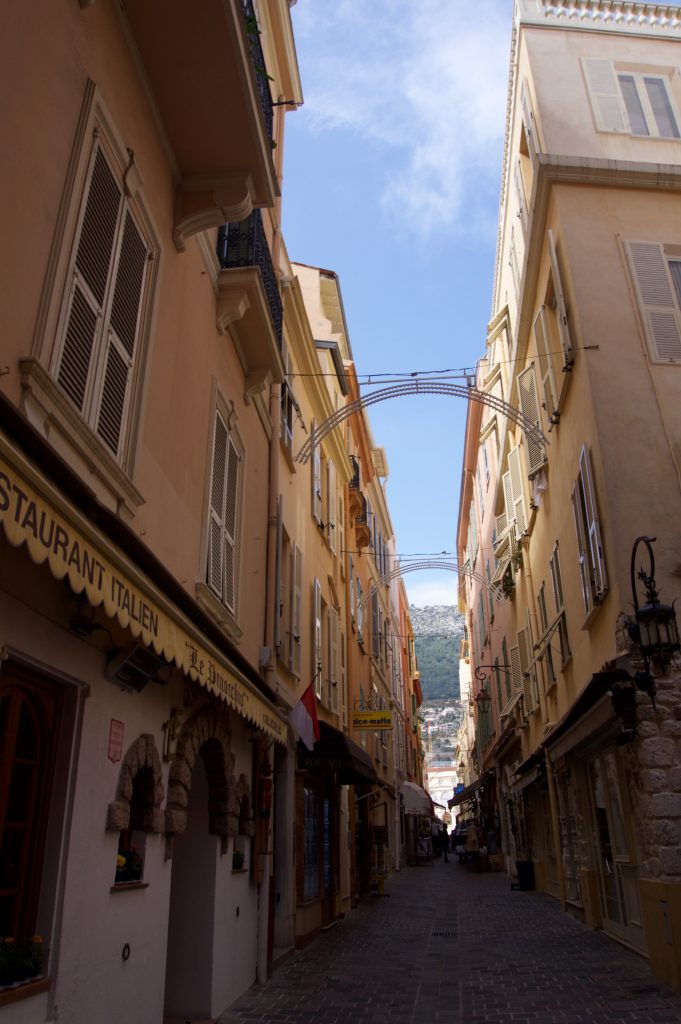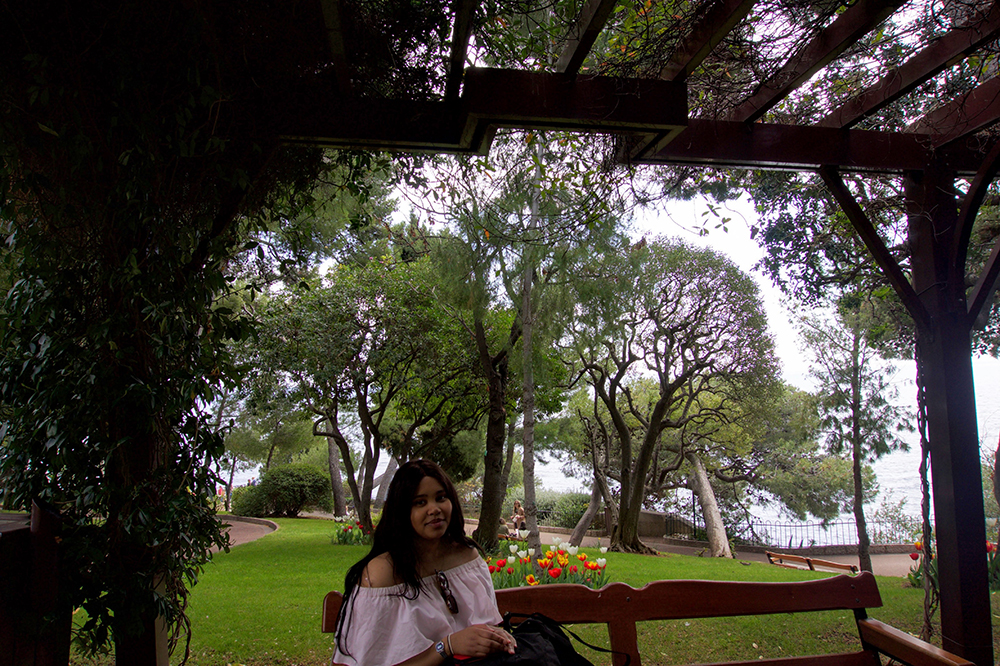 Monaco
Matilda took us around the Grand Prix track, at of course at a much slower speed. As we went around, we could see some preparation for this year's Grand Prix already in the works.
She then dropped us off by the famous Casino Monte Carlo where she initially gave us an hour or two to go in and be completely reckless. It turns out no one had plans to go to the casino so she cut our exploring around Monaco time short – but it was still fun! Around the casino was the well-known cafe – Cafe de Paris which was quite daunting to walk past, there were lots of people with drinks, fancy jewelry, clothes and just screamed: "HELLO IM RICH"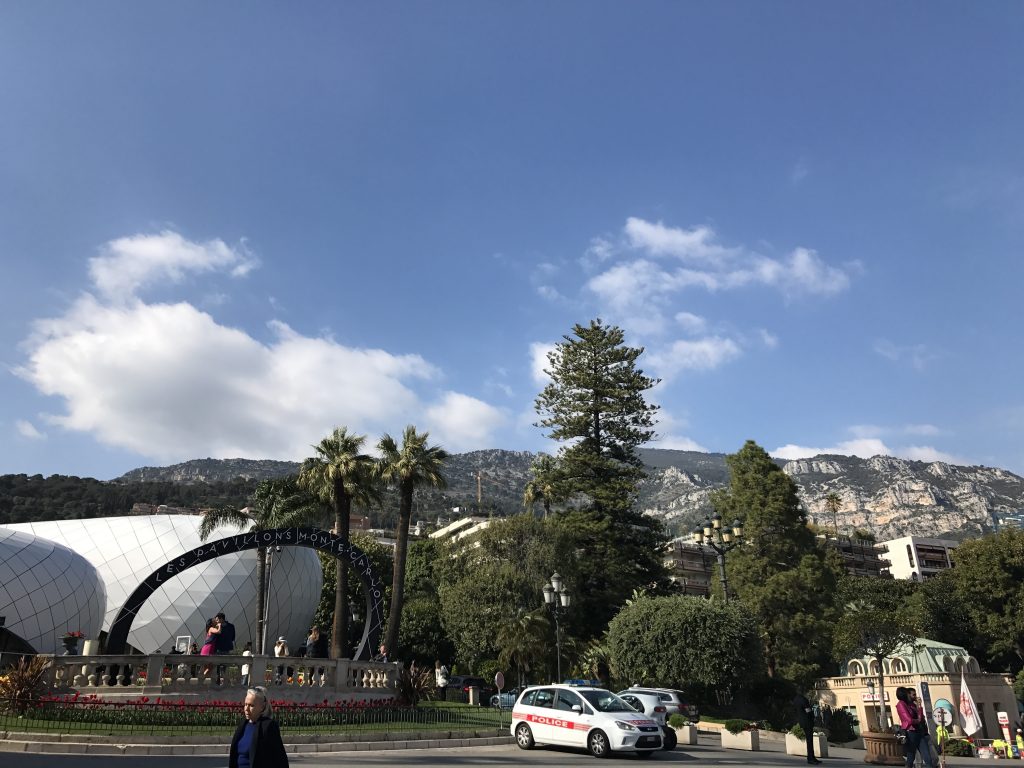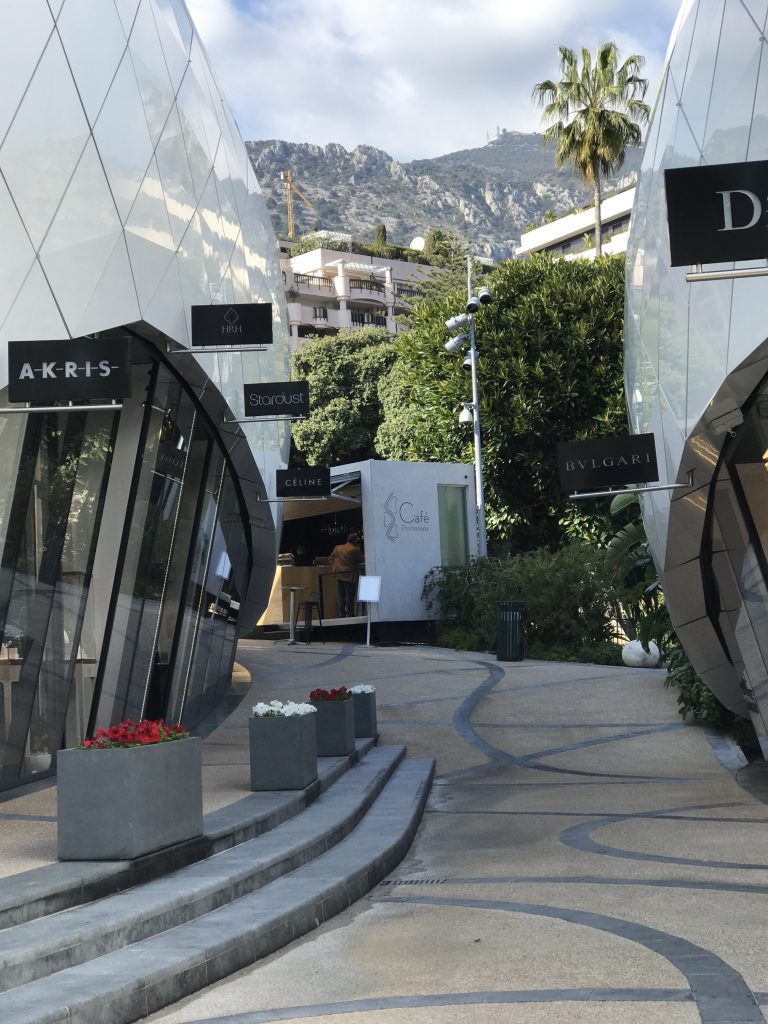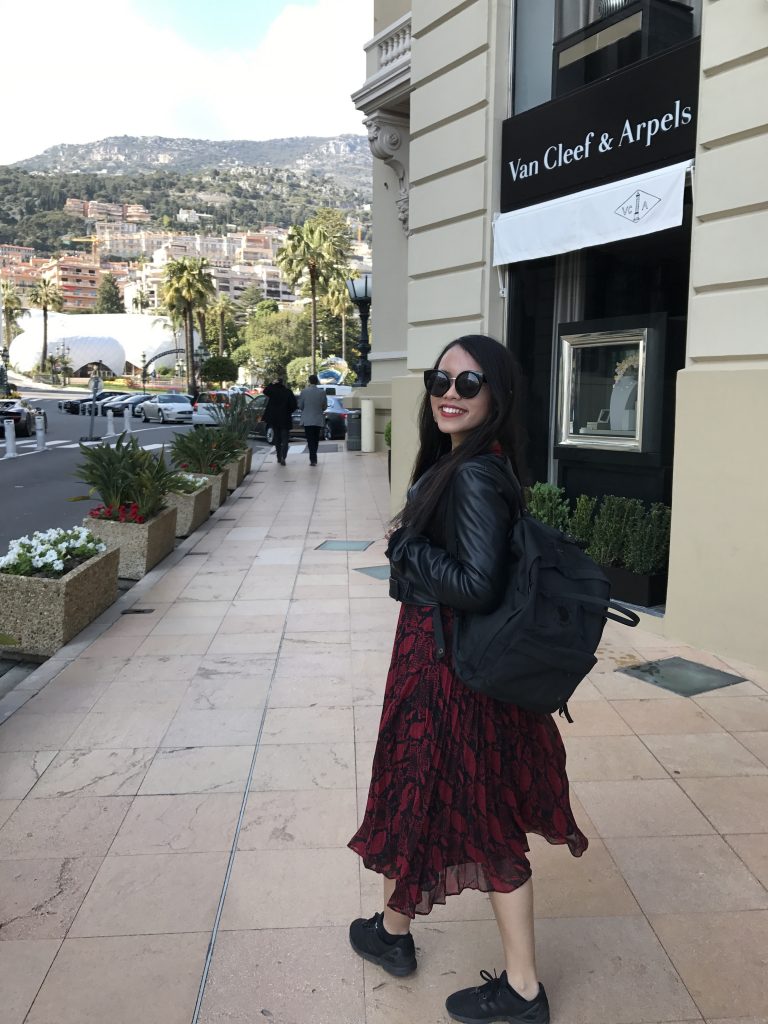 Matilda had kept saying that Monaco was a different world and it definitely was – models strolling past (Hamdah said she saw one!), people walking into high-end shops and walking out with bags of stuff – in fact, there were only high-end shops and not to mention, yachts and shiny cars, everywhere.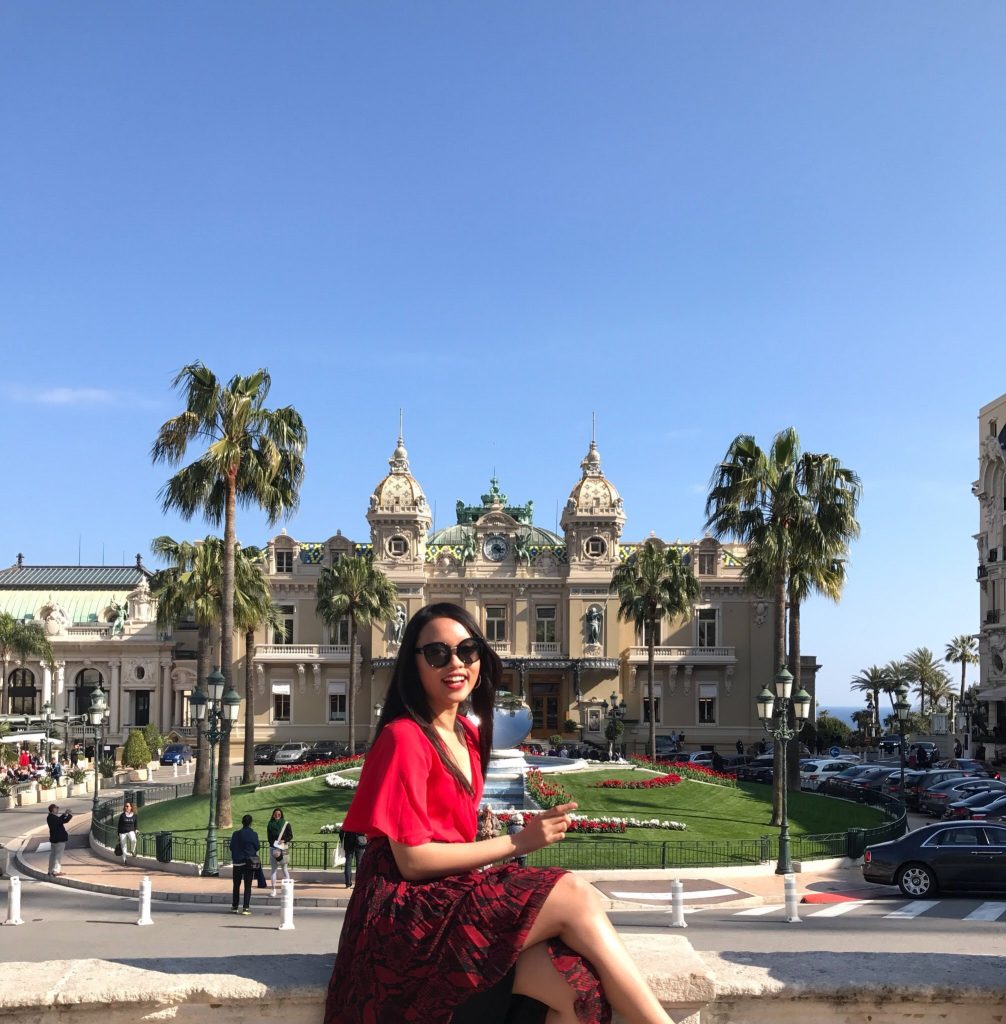 I constantly felt out of place but it definitely an experience.

Day Four – No, we aren't Ubering it
I asked on Twitter (so useful, seriously) which other places people recommend in Nice and one of my coursemates, Katy recommended Villefranche. After doing some research on where exactly Villefranche was, I reckoned that Hamdah and I could get there in half an hour on foot.
Nope.
We spent a good two hours getting to Villefranche. Hamdah had suggested getting an Uber at the start of our journey "if it's only 30 minutes away" but I kept going against it because it is "only 30 minutes away" *facepalm*
On a positive note, we got to see some more great views and discovered a beautiful little area (involved a trekking, oops) called Coco Beach according to Google Maps but it wasn't much of a beach.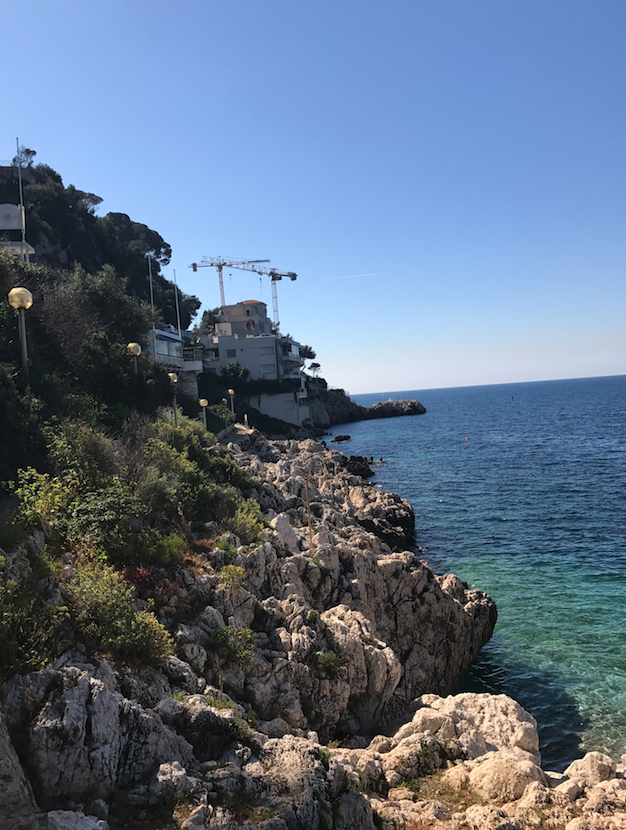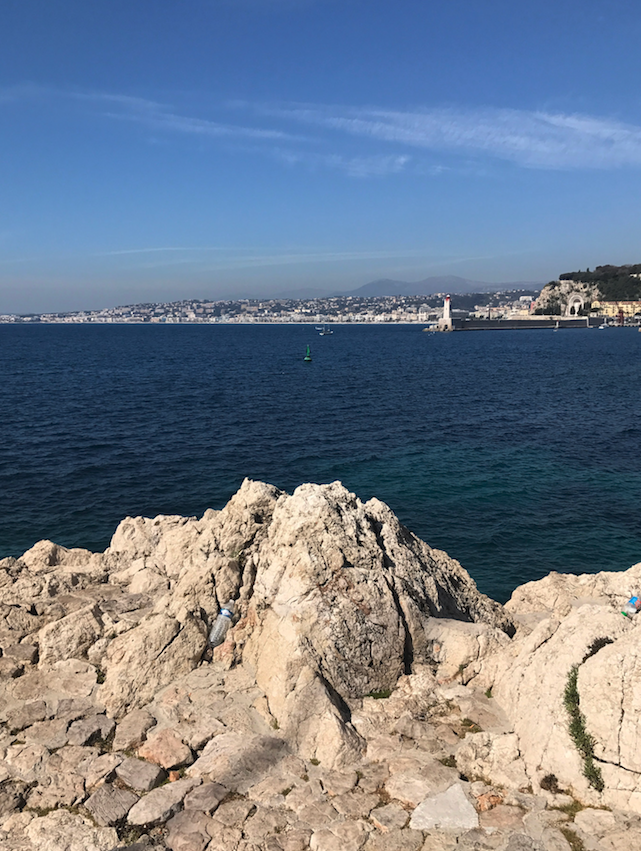 Remember how I said that I was on the mission to find a beautiful sandy beach? Villefranche had it. In fact, it had everything I could ever want. 😆 We spent all day relaxing by the ocean – definitely much needed after all the walking!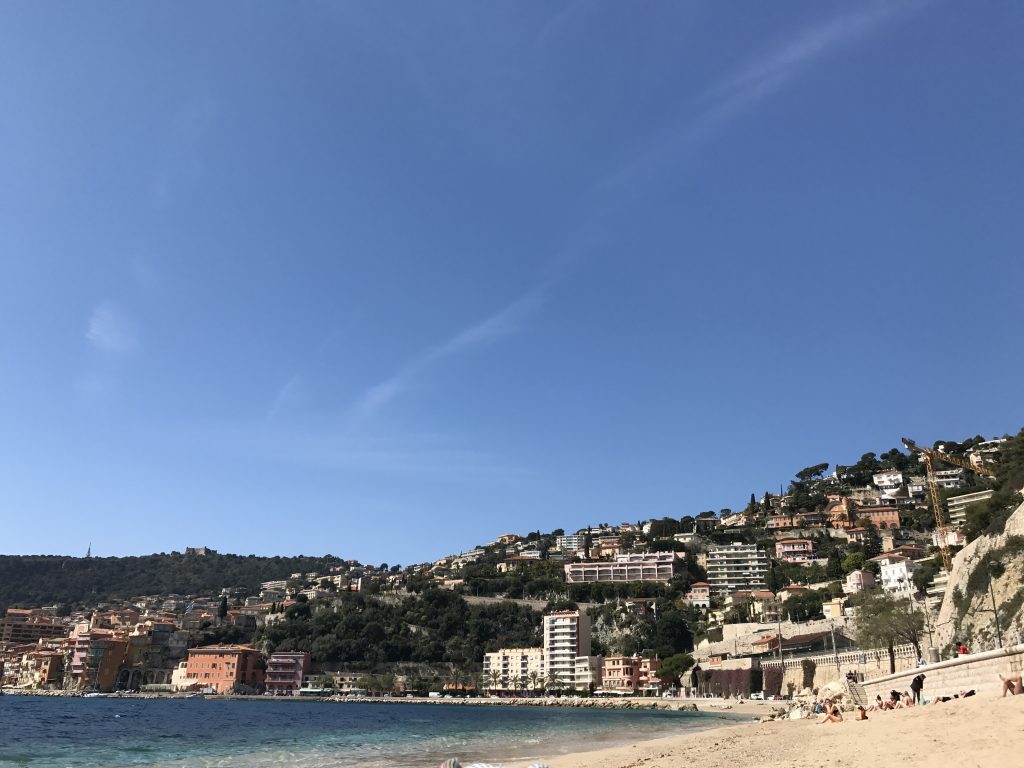 Storytime: For lunch, we decided to stay by the sea and ate a fairly reasonable place considering it's location. There was another restaurant beside the one we went to which was charging 40 euros for one small plate of probably-top-class-risotto. 😅 We guessed that it was that expensive because of the location. Further down, we luckily found another that was still open after 2 pm (most restaurants close at 2 pm, not sure why this was the case in Lisbon too!)
The waiter at this particular restaurant was very into his customers, or maybe just me.
I was tweeting this as it happened but the waiter had introduced himself in a way that was perhaps very French – breaking that touch barrier almost immediately, telling me how beautiful my smile is, how beautiful I am, how he is heartbroken when I leave France to go back to England, asked if I believe in love at first sight and then introduced me to his mother. It all happened faster than I could eat my tagliatelle.
It was funny initially but it got to the point where I felt uncomfortable. Luckily that was the last encounter, Hamdah paid and I made a swift exit outta there.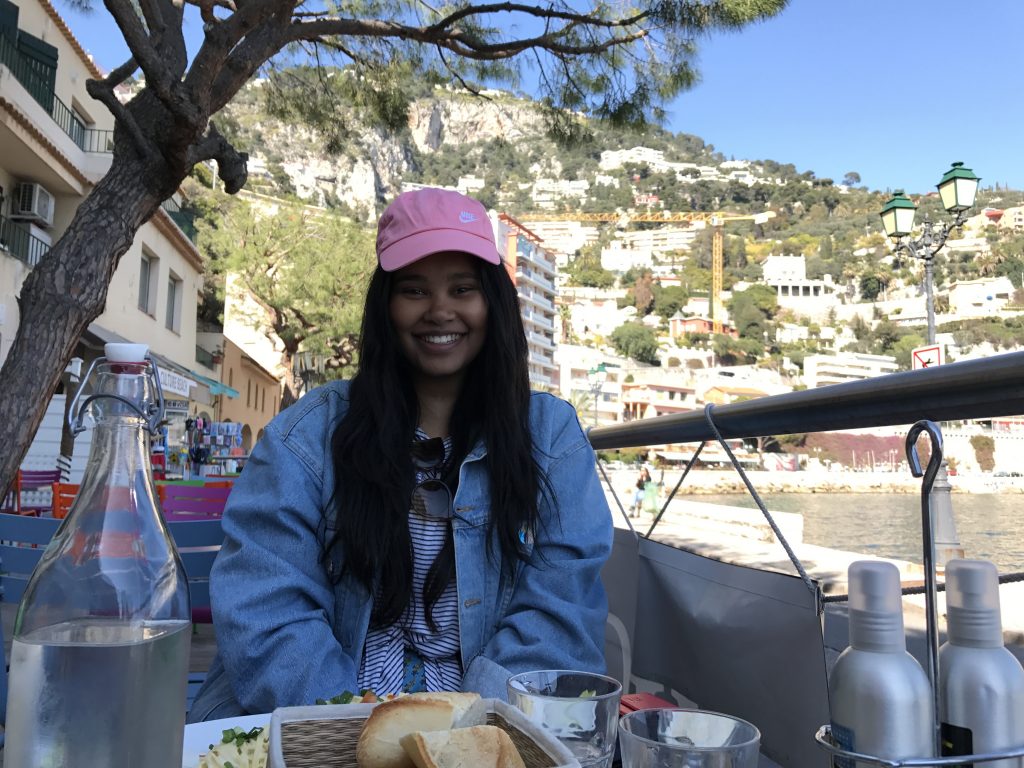 Storytime #2: The rest of the afternoon involved falling asleep by the sounds of the waves. At some point around sunset, Hamdah and I got one of the biggest shocks of our lives. We had been discussing beforehand some traumatic experiences with dogs in the past when…
An extremely aggressive dog had jumped onto the beach and completely startled us. When we became aware that it wasn't on a leash and the owners were nowhere to be found, we slowly started moving away when it ran off and went up to a child for its ball – or so we thought – it sort of happened too fast but the dog wasn't after the ball at all. Instead, it just went straight for the child and punched him once, Manny Pacquiao style. The child's dad got involved and started kicking the dog away. Thankfully, the child wasn't injured at all but watching the whole thing was both traumatic and funny at the same time.
Reflecting back on this memory, in particular, was hilarious for me, it was one of those you had to be there moments.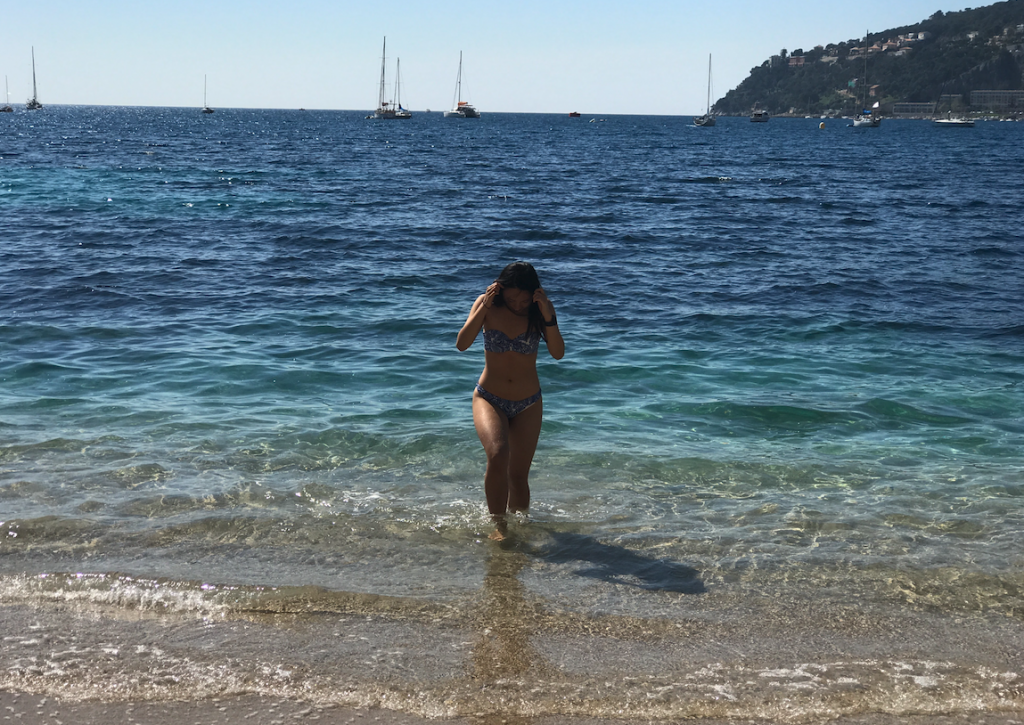 Hamdah referred back to this video, which was pretty much what the dog was like.

Day Five – Weird tan lines
After a very eventful day at Villefranche, we decided to go again and relax – this time we took the train! The sandy beach was much more comfortable compared to the beach next to our hotel and really just wanted to chill out especially after all the exploring and walking around Lisbon's hills.
It was the highest temperatures on our fifth day too which meant soaking up the sun and getting weird tan lines from wearing an extremely flattering bikini.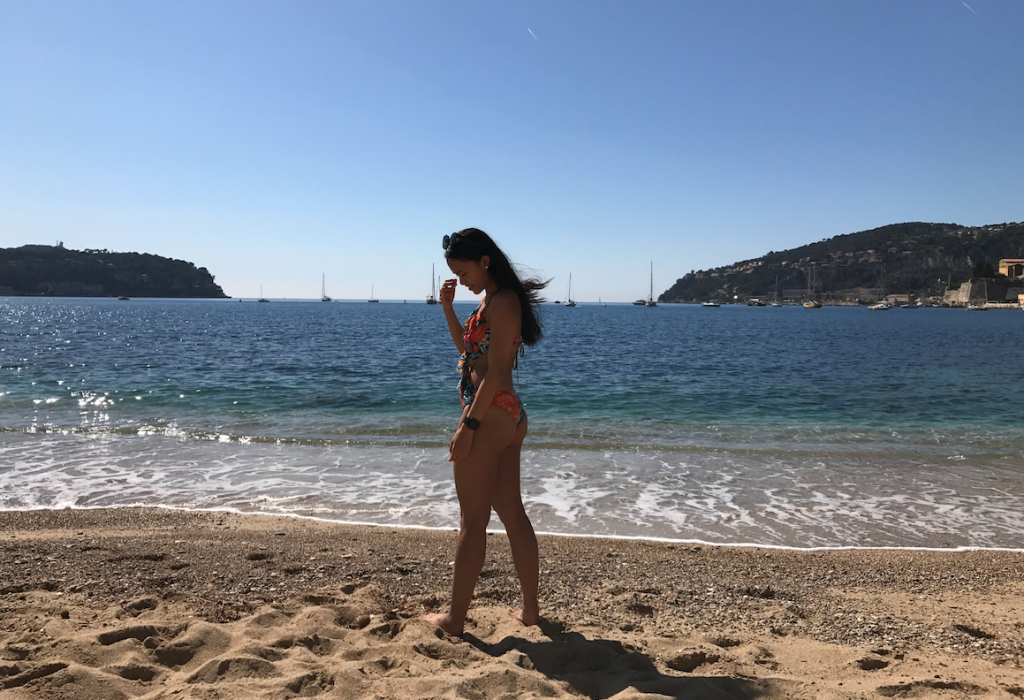 For lunch, we avoided the restaurant we went to the day before and found a nicer one further down (best seafood ever!) This didn't stop the same waiter calling after us and waving when we walked past the restaurant though. 😅 Following this, we explored the little town in Villefranche and treated ourselves with best ice cream ever!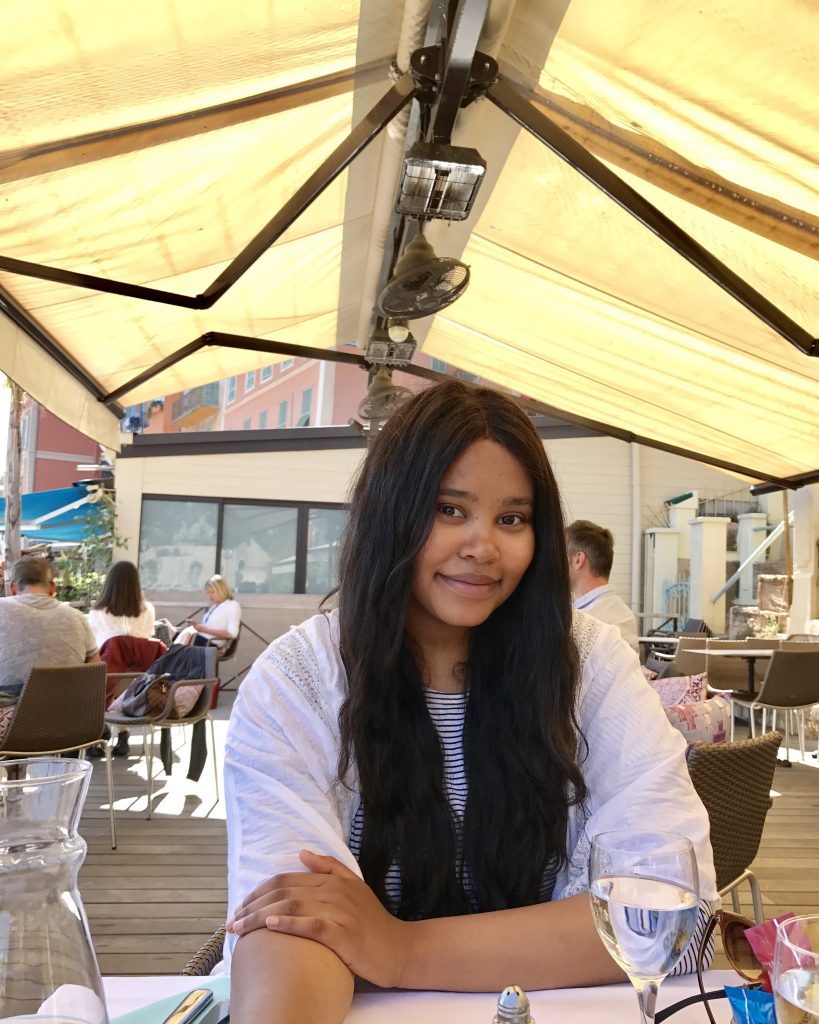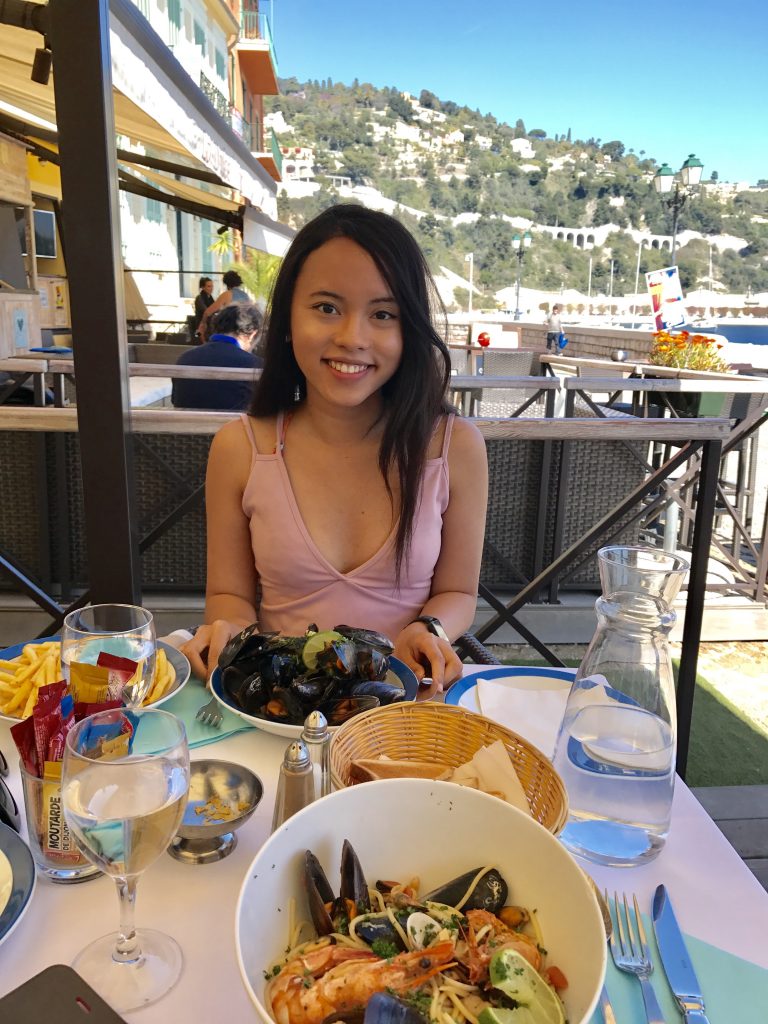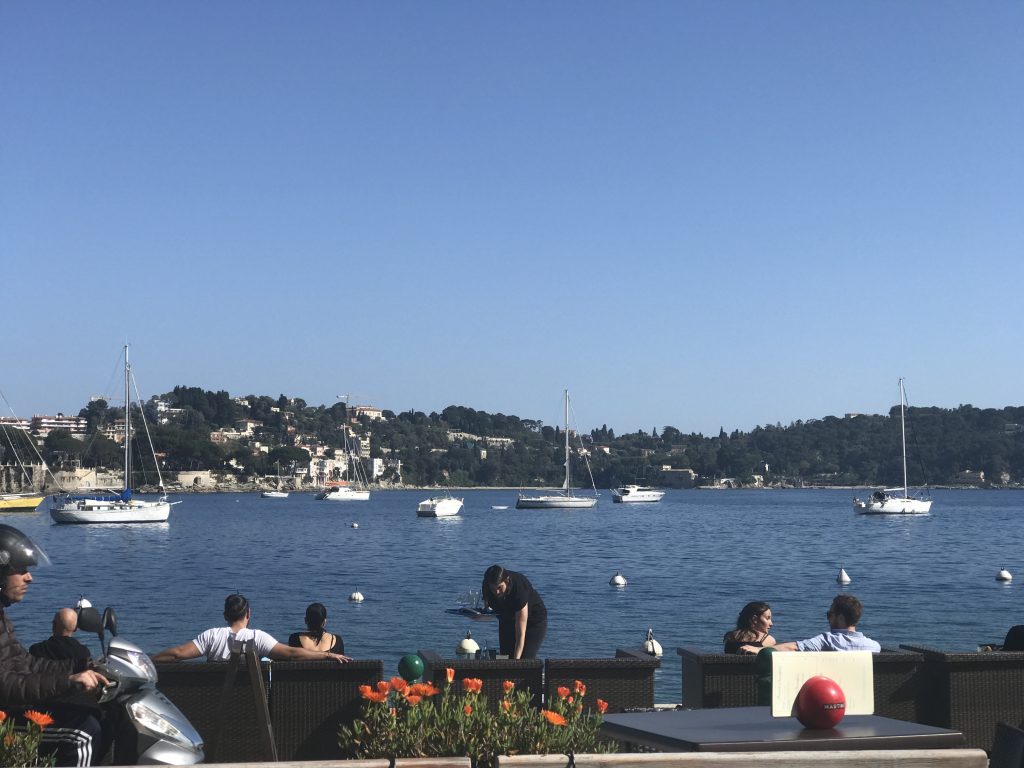 We ended the day with a long swim in the sea which was a really bad idea – it was cooler later in the day and we were underdressed and not prepared 😆 We looked pretty funny completely soaked under our clothes and shivering on the train. There were looks. 😅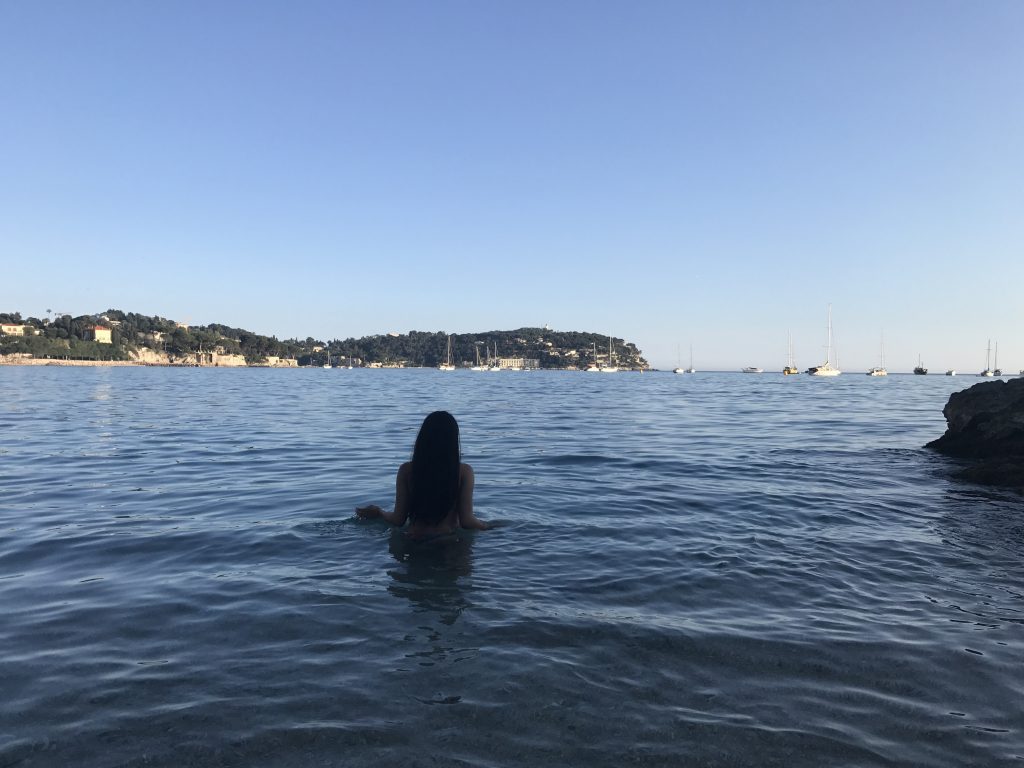 Worth it.
"And that's how you get hypothermia" – my mom
Hard Rock Cafe
We spent that evening at the Hard Rock Cafe which was a minute away from our hotel. Hamdah educated me on some rock classics whilst I told her about how amazing Ed Sheeran's new album is.
She still loves me.
I think.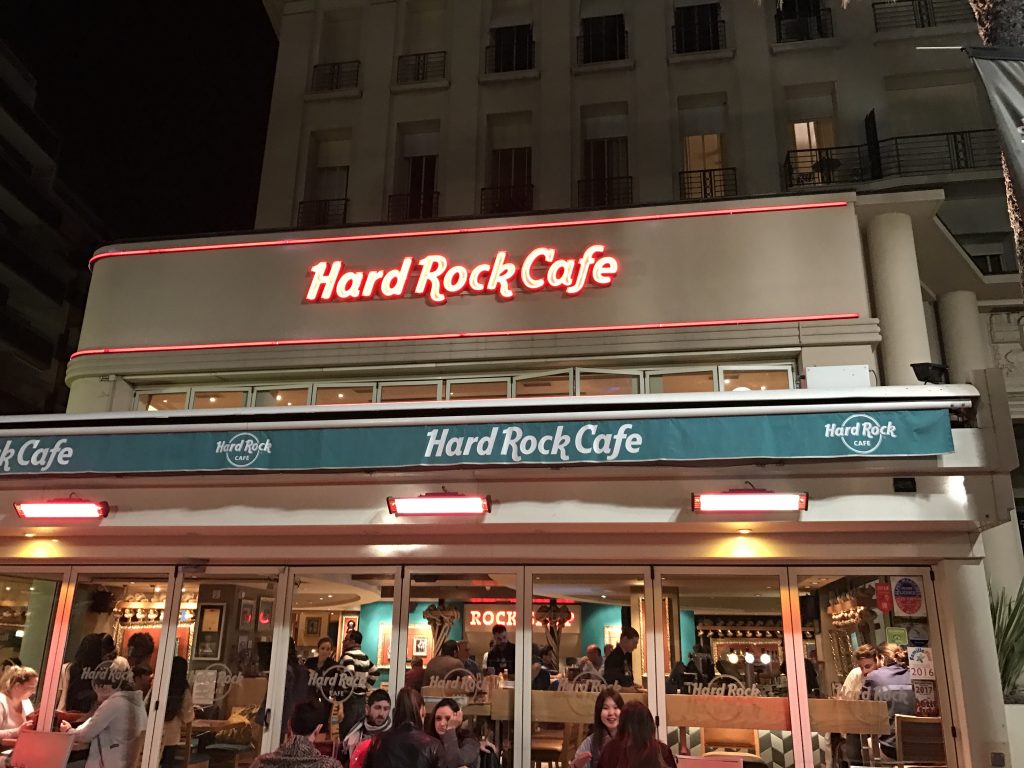 Day Six – But it's so nice here 😩
…that was the last one I promise – got it all out of my system
I woke up pretty early on the last day I think it was mainly because of travel anxiety before hand. Although I was already prepared and packed to go, I always worry that I've missed something out. To calm my anxieties, I meditated, did some yoga, and even went through some of my emails because there was no way I was going back to sleep.
Around half an hour before sunrise, I had been thinking about going on a run and watching morning officially rise over Nice. Hamdah was still fast asleep and over the last two weeks, I've had her adapt to my morning routine of waking up early and in addition all the walking had tired her out so I felt bad waking her up to do cardio (I mean what kind of friend is that 😂 #cardiono) but I didn't want to miss the sun rise on the final day.
After thinking about it a lot, I pulled up the courage to go out alone.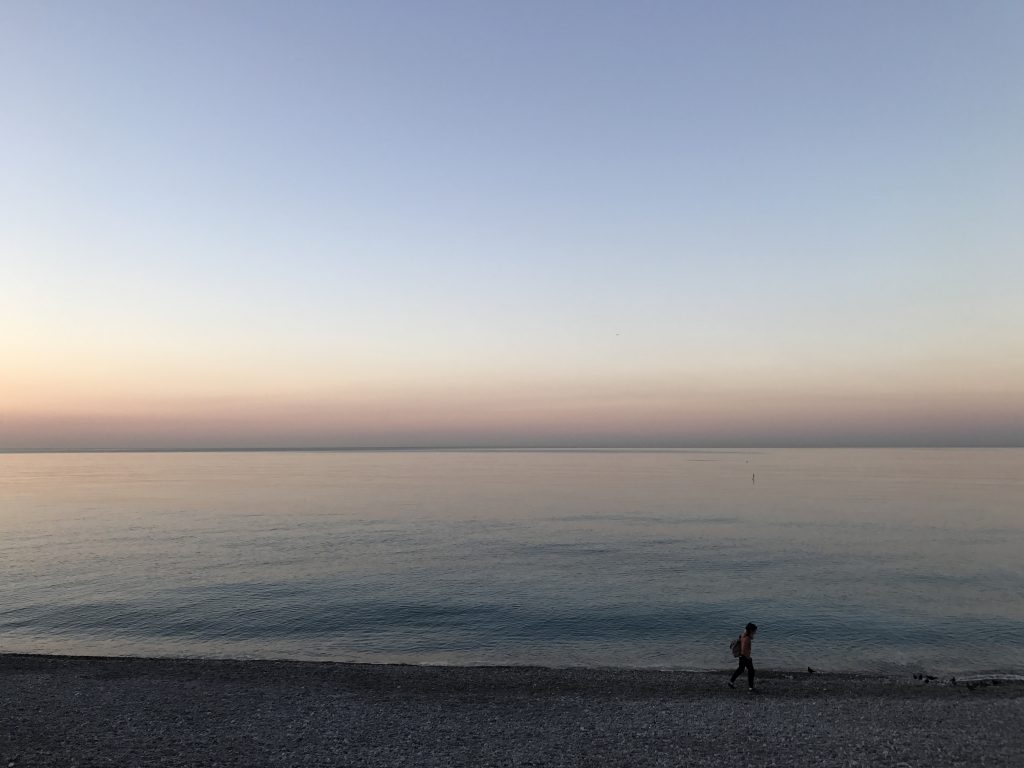 It was freeing. I didn't think I could go abroad without my family. But then I did. I didn't think I could wander streets of a different place to my home alone. But I did – in fact, I ran. I ran up to Castle Hill – only to find it was closed off but it was still worth the run even though the gates were closed half way.
I went around and ran beside the beach, stopping for a few moments to watch the sun rise and listen to the ocean.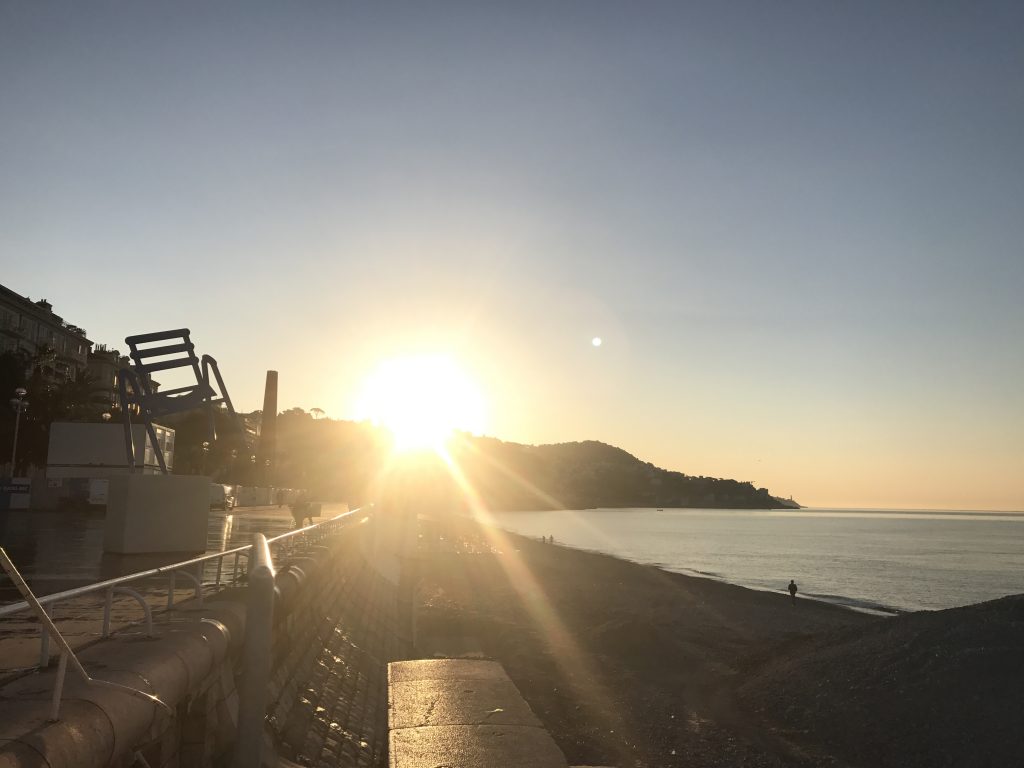 It was SO nice (sorry, not sorry) I felt all sorts of things but mostly grateful for my emotions being in check. I beat ya again, anxiety. It may have been the endorphins released from my cardio workout but whatever it was, it felt fucking amazing.
I was scared but braved out and went alone, it isn't much of a big deal to most people but this whole trip was a big deal to me 😂
When Hamdah woke up, we decided to go up to Castle Hill once again but discovered a lift which was what my legs needed, to be honest.
The lift ended up taking us further than we went up last time and once again found breathtaking views. The place we ended up was the mountain park – Parc de la Colline du Château.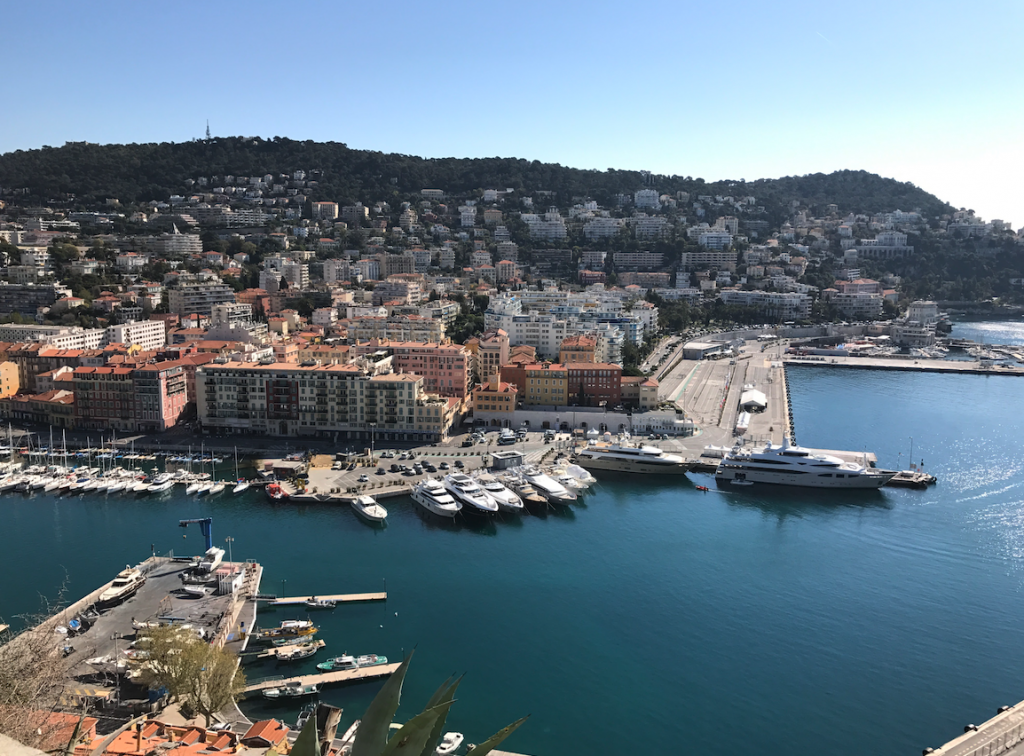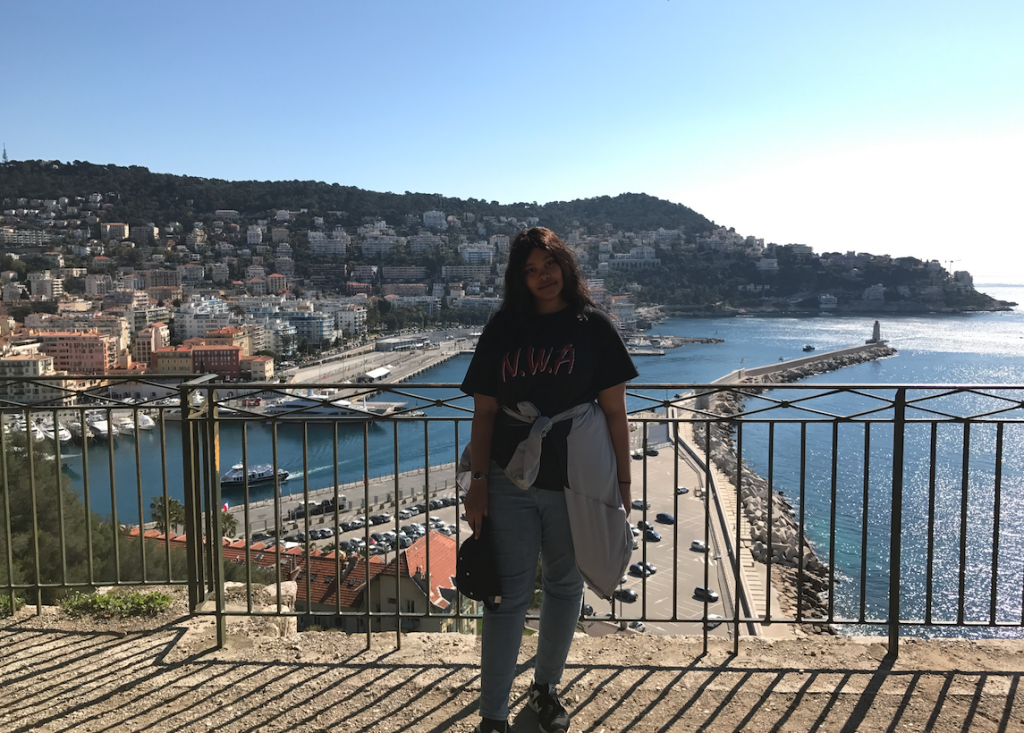 Merci Beaucoup! 🇫🇷
Checking out was actually the saddest thing ever, despite having a disappointing room, weird men declaring their love for me, falling over my own feet a few times on the main road, I wasn't ready to leave.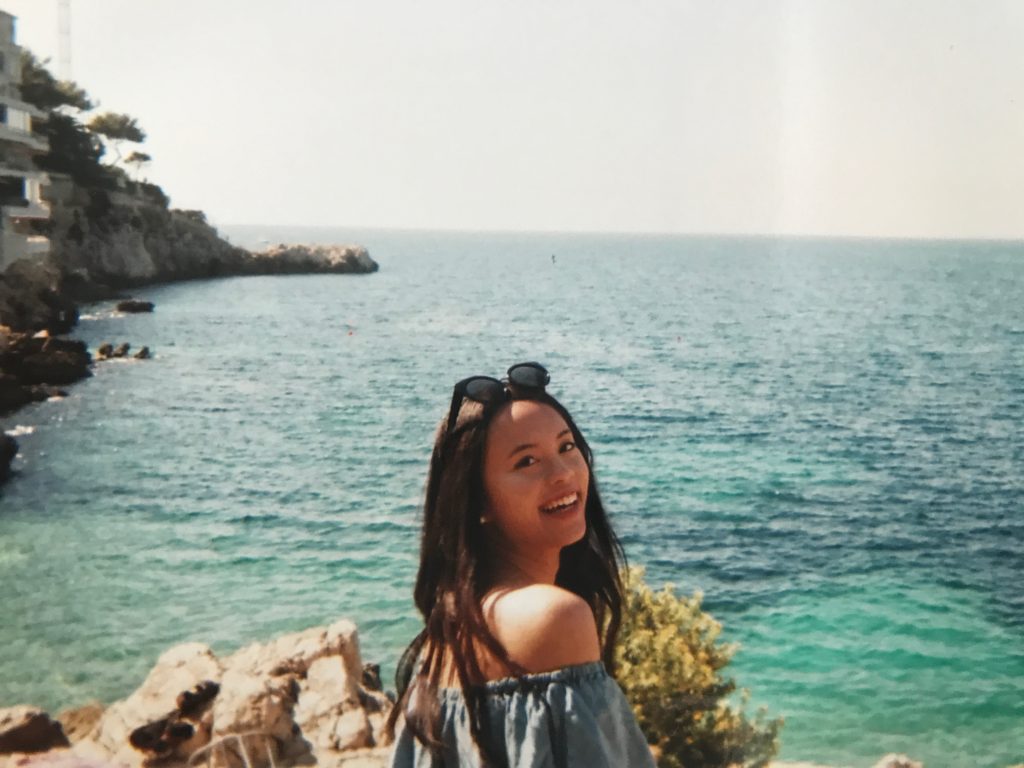 Southern France has my heart. 💙 The mix of city, French Riviera, diversity of restaurants (even though we ate at Italian restaurants mostly oops) and beautiful views has made me want to go back as soon as possible or make Nice a regular trip. I've been to France a few times and it's always been a country that makes me the happiest. Nice hasn't disappointed! I'll be back 😍
Despite the weird, uncomfortable encounters I had – the two weeks away from everything and everyone in my day-to-day life was exactly what I needed. The adventure has kick-started a global mindset I want to pursue further.
Part 3 kicks off tomorrow, in Amsterdam. ✨